6 to 10 July 2015
The 25th Men's Southbroom Amateur Classic was played from 6th – 10th July 2015. It was a fabulous tournament, enjoyed by all!!
Congratulations to the winners, the top 12 being:
OVERALL WINNERS
1
Bob Thomas & Pat Cronin
189
2
Robbie Botha & Melchi Botha
180
3
Jaco Spamers & Jan Marais
179
4
Derrik Matthew & Bruce Matthew
176
5
Peter Dessington & Melvin Blom
174
6
Dries Barkhuizen & Johan Erasmus
173
7
Aubrey Myburgh & Aubrey Myburgh
172
8
Chris Myburgh & Robbie Haagmann
171
9
Grant Harding & Guy Barkhuizen
171
10
Johan Schnetler & Cyril Botha
171
11
Chris Miller & Tony Routledge
170
12
Rohan Kelly & Glenn Leamy
170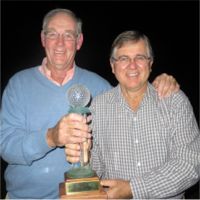 The 25th Southbroom Amateur Classic was a fantastic event! Bob Thomas & Pat Cronin dominated the tournament after starting with 51 points on Day 1. There were a number of other teams trying to catch them all week. Defending Champs Robbie & Melchi Botha, came back with 49 points on Day 3 Thursday to chase the leaders , but that wasn't enough to catch up as Bob and Pat went on to win with a resounding total of 189 points, 9 points ahead of the Team Botha.
The course was initially looking very dry and the 40+mls of rain that fell on Monday night made the Green Keeper and surrounding farmers smile, but it made the conditions for golfing rather cool, damp and windy for the duration of play, with the sky only clearing partially on Friday afternoon.
Nevertheless there was a great Tournament spirit at the Club and our thanks go to all the 160 Players and especially to our main sponsors Hibiscus Insurance, Linvar, Storage Direct, Insurisk & Jeep for participating!
The Purtell family donated a special new trophy for the tournament in honour of Hugh Purtell, who founded the Tournament in 1991.
It is the largest of the 'Classic Trilogy' held annually at Southboom Golf Club, together with the popular Ladies Classic in May and the Mixed Classic in October.
If not before, we look forward to seeing you all again in The 2016 Amateur Classic.
For a few fond memories, click to see all the pics on facebook!!
Click here to be placed on the 2016 invitation list – Monday 4th to Friday 8th July 2016.
Results
OVERALL WINNERS
1
Bob Thomas & Pat Cronin
189
2
Robbie Botha & Melchi Botha
180
3
Jaco Spamers & Jan Marais
179
4
Derrik Matthew & Bruce Matthew
176
5
Peter Dessington & Melvin Blom
174
6
Dries Barkhuizen & Johan Erasmus
173
7
Aubrey Myburgh & Aubrey Myburgh
172
8
Chris Myburgh & Robbie Haagmann
171
9
Grant Harding & Guy Barkhuizen
171
10
Johan Schnetler & Cyril Botha
171
11
Chris Miller & Tony Routledge
170
12
Rohan Kelly & Glenn Leamy
170
WINNERS – DAY 1 – MONDAY 6th July
1st
Bob Thomas & Pat Cronin
51
2nd
Osie Osborne & Tony Holness
49
3rd
Jaco Spamers & Jan Marais
48
4th
Derrik Matthew & Bruce Matthew
48
NEAREST THE PINS
4th
Lance Evershed
8th
Robin Shuttleworth
11th
Denis Ives
14th
Red Shuttleworth
Pro Shop Lucky Draw

Ritchie Lamb
WINNERS – DAY 2 – TUESDAY 7th July
1st
Ian Fuller & Athol Mayhew
44
2nd
Grant Harding & Guy Barkhuizen
44
3rd
Laurance Schlanders & Gus Bonini
44
4th
Adrian Blom & Brian Baker
44
NEAREST THE PINS
4th
Melchi Botha
8th
Rohan Kelly
11th
Arthur Percival
14th
Adrian Blom
Pro Shop Lucky Draw
Raul Garbini
WINNERS – DAY 3 – THURSDAY 9th July
1st
Robbie Botha & Melchi Botha
49
2nd
Raul Garbini & Rob Versuput
48
3rd
Dries Barkhuizen & Johan Erasmus
47
4th
Duke Moorosi & Andile Msenti
47
NEAREST THE PINS
4th
Jacques de Kok
8th
Tony Fuller
11th
Rob Meydell
14th
Athol Mayhew – Hole in One
Pro Shop Lucky Draw
Rob Meydell
WINNERS – DAY 4 – FRIDAY 10th July
1st
Chris Myburgh & Robbie Haagman
47
2nd
Robin Shuttleworth & Basil Joseph
47
3rd
Peter Dessington & Melvin Blom
47
4th
Darrell Bailie & Jacques de Kok
45
NEAREST THE PINS
4th
Cyril Botha
8th
Dries Barkhuizen
11th
Gavin Edwards
14th
Pat Cronin
13th
Theo van Vuuren
Pro Shop Lucky Draw – 1st
Karl van Heerden
Pro Shop Lucky Draw – 1st
Errol Caister
TOURNAMENT SPONSORS
PLEASE SUPPORT OUR SPONSORS, THEY MADE IT POSSIBLE
Hibiscus Insurance Brokers
Linvar & Storage Direct
Jeep
Insurisk
Realty 1 Southbroom
Game for Life
Southbroom Pro Shop
Footjoy
Adams
TaylorMade
Mizuno
Best of Golf
Cutter & Buck
Verve Water
The Pro Shop – Durban
ISmart massages
Titleist
Nike
Callaway
Adidas
Puma
Srixon
Kenasco Clothing
Bandit Distributors
Emthunzini Sun Hats