3 to 7 July 2017
The 27th Men's Southbroom Amateur Classic was played from 3rd – 7th July 2017. It was a fabulous tournament, enjoyed by all!!
Once again we held a wonderful Southbroom Mens Amateur Classic with sparkling weather, great food and drink, tons of laughter and friendship  together with some special golf.
Congratulations to the winners, the top 12 being:
OVERALL WINNERS
1
Graham Barkhuizen & Guy Barkhuizen
186
2
Chris Miller & Tony Routledge
186
3
Bernie Vorster & Des Erasmus
185
4
John Neaves & Don Osbourn
174
5
Rob Verseput & Raul Garbini
173
6
Ig Erasmus & Rudi Venter
173
7
Peter Volck & Paul Volck
173
8
Clive Miller & Alister Miller
172
9
Jan Pienaar & Dave Donald
172
10
Darrell Bailie & Jacques Kok
171
11
Barend Kok & Arthur Percival
171
12
Bob Thomas & Pat Cronin
170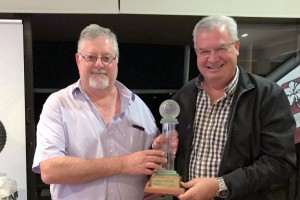 The course was playing dry and fast with firm quick greens, so shorter than normal and if you got it right the players could put some very good scores together, which is what happened. There was a little wind on day one and two and twelve teams within three shots of the lead. Day three (which the pros call moving day) there was some serious moving with Graham and Guy Barkhuizen making 53 points in the morning to separate them elves from the field. The afternoon was even better with Chris Miller and Tony Routledge making 54 points. Chris doubled the first hole only to be saved by Tony's 4 for 3 points, then Chris played the next 17 holes in one over par shooting 75 off a 18 handicap. Truly great golf for a guy who hasn't been 100% well but proof that good scoring was not impossible with the correct strategy. Too many players smashing drivers off the tees and spending the day in trouble!
 This put the two teams well clear of the field and playing together on the last day. A two horse race. Locals Bernie Vorster and Des Erasmus had other ideas sneaking in under the radar with 51 points only to finish one point behind the two leading teams. Graham and Guy made 45 points catching Chris and Tony who made 44 points. The tie meant a count out which goes the way of the best last day giving the trophy to the Barkhuizen brothers and the second time that Chris and Tony have lost the Classic on a count out.
So to the end of a wonderful weeks golf and fun and a big thanks must go out Hibiscus Brokers & Barry Elliot for being our Umbrella Sponsor and to all our other wonderful sponsors who make the event so special.
For a few fond memories, click to see all the pics on facebook!!
Click here to be placed on the 2018 invitation list – Monday 9th to Friday 13th July 2018.
Results
OVERALL WINNERS
1
Graham Barkhuizen & Guy Barkhuizen
186
2
Chris Miller & Tony Routledge
186
3
Bernie Vorster & Des Erasmus
185
4
John Neaves & Don Osbourn
174
5
Rob Verseput & Raul Garbini
173
6
Ig Erasmus & Rudi Venter
173
7
Peter Volck & Paul Volck
173
8
Clive Miller & Alister Miller
172
9
Jan Pienaar & Dave Donald
172
10
Darrell Bailie & Jacques Kok
171
11
Barend Kok & Arthur Percival
171
12
Bob Thomas & Pat Cronin
170
WINNERS – DAY 1 – MONDAY 3rd July
1st
Chris Miller & Tony Routledge
48
2nd
Ig Erasmus & Rudi Venter
47
3rd
Graham Volck & Michael Volck
45
4th
Bernie Vorster & Des Erasmus
45
NEAREST THE PINS
4th
Jan Pienaar
8th
Graham Volck
11th
Terence Barkhuizen
14th
Gary Purtell
Pro Shop Lucky Draw
Graham Barkhuizen
WINNERS – DAY 2 – TUESDAY 4th July
1st
Barend Kok & Arthur Percival
48
2nd
Rob Verseput & Raul Garbini
48
3rd
Andrew Fox & Greg Fox
48
4th
Brian Blackstock & Sam Roets
46
NEAREST THE PINS
4th
Keith Joseph
8th
John Mclachlen
11th
Justin Ladner
14th
Rob Verseput
Pro Shop Lucky Draw
Jacques Kok
WINNERS – DAY 3 – THURSDAY 6th July
1st
Graham Barkhuizen & Guy Barkhuizen
53
2nd
Chris Miller & Tony Routledge
51
3rd
Jan Pienaar & Dave Donald
50
4th
Keith Joseph & Michael Joseph
49
NEAREST THE PINS
4th
Tony Holness
8th
Jacques Kok
11th
Guy Barkhuizen
14th
Manni Oelrich
Pro Shop Lucky Draw
Manni Oelrich
WINNERS – DAY 4 – FRIDAY 7th July
1st
Bernie Vorster & Des Erasmus
51
2nd
Darrell Bailie & Jacques Kok
47
3rd
Barry Elliott & Manni Oelrich
46
4th
Malcolm Greenland & Colin Mckay
46
NEAREST THE PINS
4th
Justin Ladner
8th
Chris Edmeston – HOLE IN ONE
11th
Richard Mills
14th
Johan Booysen
Pro Shop Lucky Draw – 1st
Guy Barkhuizen
Pro Shop Lucky Draw – 2nd
George Farndell
TOURNAMENT SPONSORS
PLEASE SUPPORT OUR SPONSORS, THEY MADE IT POSSIBLE
Hibiscus Brokers
Mopar  Jeep    Alfa Romeo
Team Climax
Team DRC
Bandit Sports
Barrel Tee Shirts
Beaver Creek Coffee
Best Of Golf
Caps Ahead
CTL Group Holdings
Cutter & Buck
Dog Leg Right
Dunlop
Emthunzuni Sun Hats
Estuary Country Hotel & Spa
Geco Lifts
Kenasco Shirts
La Cappannina
Mizuno
Nike
Pringle
Puma
Realty1 Southbroom
Rip It Shorts
Riptide Restaurant
San Lameer Golf Club
SC Convenience
Simarki
Southbroom Pro Shop
Srixon
Stegman Golf
Swagg
Tamarind
Taylormade
Techniblock
Titleist  FootJoy
Ubuntu  Resource Management