9 to 13 July 2018
The 28th Men's Southbroom Amateur Classic was played from 9th – 13th July 2018. It was a successful tournament played in perfect winter conditions with lots of entertainment, food, drink friendship and laughter involved!
Congratulations to the winners, the top 12 being:
OVERALL WINNERS
1
IG ERASMUS & RUDIE VENTER
189
2
ROB MEYDELL & PIERRE VD WALLE
181
3
JAN-HENDRIK MARAIS & JACO SPAMERS
179
4
DAVE DONALD & JAN PIENAAR
179
5
KEVIN SMITH & RODGER GOVENDER
178
6
DAVID WALKER & GORDON SLABBERT
178
7
GERHARDUS BOTHMA & FRANCOIS SWART
177
8
ROBBIE BOTHA & MELCHIOR BOTHA
177
9
CYRIL BOTHA & WIEHAN VAN NIEKERK
177
10
ETTIENE SWAN & JACQUES KOK
176
11
BILL SWAILES & CHRIS EDMESTON
176
12
JOHN NEAVES & DON OSBOURN
176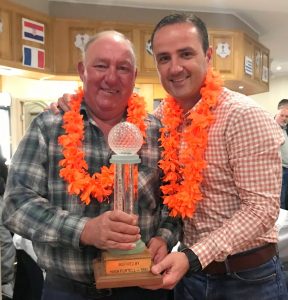 Leading up to the start of the tournament, the weather forecast's for Day 1 & 2 had many worried about wet & windy conditions. However as the sun rose on Monday morning many were pleasantly surprised to see blue skies and calm conditions. This however would only bless the morning field as a light breeze got up in the afternoon, giving the course some much needed defense. Being the middle of winter, approaching Southbroom with a sort of links approach, there are some serious points out there for you. After Day 1 we had 5 teams locked on 47 points with Rob Meydell & Pierre VD Walle sneaking the win with a well played 26 pts on the back 9 to win the count out.
Tuesday's weather was perfect, sunny with no wind and that translated to better scoring. Grant Harding & George Farndell won the day amassing 50 but again there was a count out separating the winners from the rest with Daniel Gouws and Johan Blignaut narrowly missing out.
 At the halfway mark of the tournament, 3 points separated the top 6 teams. But as it goes, Day 3, also known as moving day saw eventual winners Ig Erasmus & Rudie Venter create a 4 point lead at the top with a stellar 49 pts. Counting out Dave Donald & Jan Pienaar who had done their championship no harm with a near 50 point haul. It was as if we had been looked after with regard the weather, as the Final round got underway on Friday so the wind picked up, and a light rain fell soon after the final players had signed their cards and cracked their first beers. Ig and Rudie shot a solid 47 points on Friday to keep Pierre vd Walle and Rob Meydell at bay, winning the tournament by 8 shots. Jan-Hendrik Marais & Jaco Spamers shot a 51 pts on Friday to 3rd place overall, with Dave Donald and Jan Pienaar rounding out the Top 4 with a very competitive final two days.
Overall it was a fantastic tournament, and a huge congratulations to Ig Eramus & Rudie Venter. Ig won his first Men's Classic on his 19th attempt!So to the end of a wonderful weeks golf and fun and a big thanks must go out Hibiscus Brokers & Barry Elliot for being our Umbrella Sponsor and to all our other wonderful sponsors who make the event so special.
For a few fond memories, click to see all the pics on facebook!!
Click here to be placed on the 2018 invitation list – Monday 1st to Friday 5th July 2019.
Results
OVERALL WINNERS
1
IG ERASMUS & RUDIE VENTER
189
2
ROB MEYDELL & PIERRE VD WALLE
181
3
JAN-HENDRIK MARAIS & JACO SPAMERS
179
4
DAVE DONALD & JAN PIENAAR
179
5
KEVIN SMITH & RODGER GOVENDER
178
6
DAVID WALKER & GORDON SLABBERT
178
7
GERHARDUS BOTHMA & FRANCOIS SWART
177
8
ROBBIE BOTHA & MELCHIOR BOTHA
177
9
CYRIL BOTHA & WIEHAN VAN NIEKERK
177
10
ETTIENE SWAN & JACQUES KOK
176
11
BILL SWAILES & CHRIS EDMESTON
176
12
JOHN NEAVES & DON OSBOURN
176
WINNERS – DAY 1 – MONDAY  9th July
1st
ROB MEYDELL & PIERRE VD WALLE
47 PTS
2nd
CLEVE WALKER & MIKE LIG
47 PTS
3rd
ALISTER MILLER & CLIVE MILLER
47 PTS
4th
JOHN NEAVES & DON OSBOURN
47 PTS
NEAREST THE PINS
4th
BASIL JOSEPH
8th
STEVE JOSEPH
11th
CLIVE MILLER
14th
EDDIE BLACK
Pro Shop Lucky Draw
JOHN NEAVES
WINNERS – DAY 2 – TUESDAY 10th July
1st
GRANT HARDING & GEORGE FARNDELL
50 PTS
2nd
DANIEL GOUWS & JOHAN BLIGNAUT
50 PTS
3rd
BOB CLARK & DON CAMERON
48 PTS
4th
IG ERASMUS & RUDIE VENTER
47 PTS
NEAREST THE PINS
4th
PETER DESSINGTON
8th
WIEHAN VAN NIEKERK
11th
JACQUES KOK
14th
TONY HOLNESS
Pro Shop Lucky Draw
CHRIS EDMESTON
WINNERS – DAY 3 – THURSDAY 12th July
1st
IG ERASMUS & RUDIE VENTER
49 PTS
2nd
DAVE DONALD & JAN PIENAAR
49 PTS
3rd
PETER VOLCK & GRAHAM VOLCK
48 PTS
4th
CHRIS MILLER & TONY ROUTLEDGE
48 PTS
NEAREST THE PINS
4th
PAUL COLE
8th
MALCOLM SHEPPARD
11th
MIKE LEESMAN
14th
ANDY RIVERS
Pro Shop Lucky Draw
ROB STONE
WINNERS – DAY 4 – FRIDAY 13th July
1st
JAN-HENDRIK MARAIS
51 PTS
2nd
GERHARDUS BOTHMA & FRANCOIS SWART
49 PTS
3rd
ETTIENE SWAN & JACQUES KOK
47 PTS
4th
KEVIN SMITH & RODGER GOVENDER
47 PTS
NEAREST THE PINS
4th
BASIL JOSEPH
8th
CYRIL BOTHA
11th
IG ERASMUS
14th
STEVE JONES
Pro Shop Lucky Draw – 1st
ADRIAN BLOM
TOURNAMENT SPONSORS
PLEASE SUPPORT OUR SPONSORS, THEY MADE IT POSSIBLE
Hibiscus Brokers
Mopar  Jeep
Team Climax
Team DRC
Geco Lifts
Mauritius
Realty One Southbroom
Srixon
World Leisure Holidays
Taylormade
Titleist / Footjoy
Swagg
Wild Coast Sun
Pringle of Scotland
Under Armour
Colron Clothing
Barrel Clothing
Puma
Stegman Golf
Riptide Restaurant
Emthunzini Hats
Volvik
Maser Security
Bandit
CTL Holdings
Ubuntu Resource Management
Nike Golf
Southbroom Pro Shop