1 to 5 July 2019
The 29th Men's Southbroom Amateur Classic was played from 1st – 5th July 2019. It was a successful tournament played in perfect winter conditions with lots of entertainment, food, drink friendship and laughter involved!
Congratulations to the winners, the top 12 being:
OVERALL WINNERS
1
Greg Fox & Andrew Fox
171
2
Robbie Botha & Melchi Botha
168
3
Ig Erasmus & Rudie Venter
164
4
Louwrens Meintjies & Adriaan Engelbrecht
163
5
Danie Gouws & Johan Blignaut
160
6
Terry Eyles & Mike Collins
160
7
Dillan Farndell & Brandon Shiers
160
8
Red Shuttlewoth & Chris Naidoo
159
9
RIchard Mills & Mike Anthony
159
10
Chris Miller & Tony Routledge
159
11
Kevin Schmidt & Paul Turner
158
12
Malcolm Greenland & Colin Mckay
158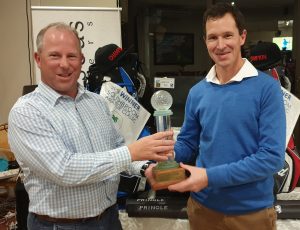 The 2019 Southbroom Amateur Classic was once again a wonderful golf tournament. A big thanks goes out to Barry Elliot and Hibiscus Brokers for their on going sponsorship of the Classic. Barry and his guests put up a very good performance with Red Shuttleworth and Chris Naidoo finishing in 8th place tied on the same score in 9th place as Richard Mills and Mike Anthony. There were 144 men enjoying a great week of golf in a combination of really easy and really tough conditions. In the end a very good win for the Fox brothers Greg and Andrew who made 43 points on the last day in the worst conditions. They finished on 171 points, three ahead of past champions Robbie and Melchior Botha who are always competitive, especially in windy conditions coming from Mossel Bay. Last years champions Ig Erasmus and Rudie Venter ended up 3rd with 164 points closely followed by a number of teams so it did go down to the wire. The Classic was enjoyed by all and very festive in the evenings with music by our local band The Legends and on the final two nights Winston Smile got everyone rocking. The food and drink was special making for a wonderful vibe.
For a few fond memories, click to see all the pics on facebook!!
Click here to be placed on the 2020 invitation list – Monday 6th to Friday 10th July 2020.
Results
OVERALL WINNERS
1
Greg Fox & Andrew Fox
171
2
Robbie Botha & Melchi Botha
168
3
Ig Erasmus & Rudie Venter
164
4
Louwrens Meintjies & Adriaan Engelbrecht
163
5
Danie Gouws & Johan Blignaut
160
6
Terry Eyles & Mike Collins
160
7
Dillan Farndell & Brandon Shiers
160
8
Red Shuttleworth & Chris Naidoo
159
9
Richard Mills & Mike Anthony
159
10
Chris Miller & Tony Routledge
159
11
Kevin Schmidt & Paul Turner
158
12
Malcolm Greenland & Colin Mckay
158
WINNERS – DAY 1 – MONDAY  1st July
1st
Malcolm Greenland & Colin Mckay
44 pts
2nd
Chris Miller & Tony Routledge
43 pts
3rd
Robbie Botha & Melchi Botha
43 pts
4th
Terence Barkhuizen & Xavier Pollet
42 pts
NEAREST THE PINS
4th
Danie Gouws
8th
Giovanni Roncara
11th
Pierre Van De Walle
14th
Brian Blackstock
Pro Shop Lucky Draw
James Johnstone
WINNERS – DAY 2 – TUESDAY 2nd July
1st
Greg Fox & Andrew Fox
47 pts
2nd
Louwrens Meintjies & Adriaan Engelbrecht
45 pts
3rd
Cyril Botha & Wiehan Van Niekerk
45 pts
4th
Dillan Farndell & Brandon Shiers
44 pts
NEAREST THE PINS
4th
Duke Moorosi
8th
Duke Moorosi
11th
Chris Miller
14th
Mike Collins
Pro Shop Lucky Draw
Greg Fox
WINNERS – DAY 3 – THURSDAY 4th July
1st
Jaco Spamers & Jan-Hendrik Marais
45 pts
2nd
Terry Eyles & Mike Collins
45 pts
3rd
Tony Singleton & Patrick Hansen
45 pts
4th
Brian Blackstock & Sam Roets
44 pts
NEAREST THE PINS
4th
Andries Du Preez
8th
Jan-Hendrik Marais
11th
Nic Van Deventer
14th
John Neaves
Pro Shop Lucky Draw
Steve Jones
WINNERS – DAY 4 – FRIDAY 5th July
1st
Grant Harding & George Farndell
43 pts
2nd
Piet Human & Stan Barber
43 pts
3rd
Bob Thomas & Derek Lawrance
42 pts
4th
Gary Purtell & James Johnstone
42 pts
NEAREST THE PINS
4th
Brian Watson
8th
Hugo Lindenberg
11th
Peter Roodt
14th
Chris Edmeston
Pro Shop Lucky Draw – 1st
Robbie Butler
TOURNAMENT SPONSORS
PLEASE SUPPORT OUR SPONSORS, THEY MADE IT POSSIBLE
Hibiscus Brokers
Titleist
Cleveland Golf
Team DRC
Glenbrynth
Srixon
Footjoy
Geco Lifts
Ubuntu Resource Management
CTL Holdings
Realty One Southbroom
Applied Outsourcing
Cutter & Buck
Kenasco Clothing
South Coast Tourism
Swagg Clothing
Under Armour
Cathy Halliday Properties
Colron Clothing
Pringle of Scotland
Riptide Restaurant
Callaway Golf
Wild Coast Sun Country Club
San Lameer Country Club
Stegman Golf
Emthunzini Hats
Puma Golf
Maser Security
Bandit Golf
Birdi Clothing
Mizuno Golf
Nike Golf
Southbroom Pro Shop
Umdoni Park Golf Club