24- 26 September 2020
The 30th Men's Southbroom Amateur Classic was played from 24th- 26th September 2020. It was a successful tournament played in typically unpredictable September conditions with lots of entertainment, food, drink, friendship and laughter involved!
Congratulations to the winners, the top 12 being:
OVERALL WINNERS
1
Bob Thomas & Pat Cronin
129
2
Howard Kelly & Anthony Hughes
125
3
Clive Miller & Gary Purtell
124
4
Dave Donald & Jan Pienaar
123
5
Ken Crawford & Alex Crawford
123
6
Mike Vd Riet & Kevin Kassel
122
7
Tommy Paulsen & Dillan Farndell
122
8
Malcolm Greenland & Hennie Van Aardweg
121
9
Alan Sutton & Jack Noble
120
10
Graham Volck & Peter Volck
119
11
Andy Rex & Grenville McWilliams
119
12
Barry Elliot & Mike Anthony
118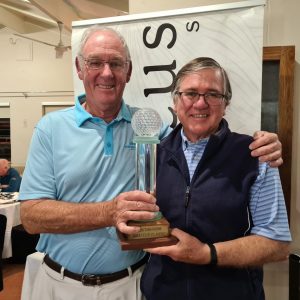 The 2020 Southbroom Amateur Classic was once again a wonderful golf tournament. A big thanks goes out to Barry Elliot and Hibiscus Brokers for their ongoing sponsorship of the Classic.
2020 has dished up many curved balls, one of them being the re-scheduling of the 30th Men's Classic. For the first time it was played over 3 days in September, a change from its usual 4 days in early July. September is known by locals as the real 'winter' on the coast. Rain is always expected at this time of year, often with a strong, cold, South-Wester.
After registration and some light entertainment from Winston Smile on Wednesday evening, the golfers were treated to a near-perfect start to their tournament weather wise. This resulted in a tight affair with 7 teams separated by just two points. Andy Rex/ Grenville McWilliams and Barry Elliott/ Mike Anthony both a point ahead of the chasing pack.
The second day proved a different challenge. For the few players teeing off in the morning field, they were treated to hot and humid conditions with no wind. Anthony Hughes/ Howard Kelly and Gerhardus Bothma/ Francois Bothma both took full advantage to make 47 points each. The afternoon field didn't have it so lucky, a near-gale picked up and it proved to be a very tricky afternoon. Southbroom locals Gary Purtell and Clive Miller put in a solid performance and shot 45 points. Gary's father and Southbroom legend, Hugh Purtell started the Men's Amateur Classic 30 years ago.
Braving all these conditions were sponsors, Ubuntu Resource Management & CTL Holdings on the first tee, along with Realty-One on the tenth tee. Providing players with much needed refreshments and encouragement.
Heading into the third and final day there was a great sense of optimism as 11 teams were separated by just 5 points. A cool, breezy day met the golfers. Gary Purtell and Clive Miller were unable to replicate their display in the previous days wind and only managed 39 points to finish third on 124 points. After a consistent tournament, Howard Kelly and Anthony Hughes put solid performance on the third day, shooting 42 points leaving them second on 125 points. However after a quiet week, Bob Thomas and Pat Cronin put in an inspired performance, making 48 points and winning the tournament by four with a final tally of 129 points. A special mention must be made for Bob Thomas, who only a couple weeks before his 73rd Birthday managed to shoot 73.
Prize-giving was well attended. 104 happy players listening to our local band, The Legends, while enjoying our club mechanic Nic's famous potjie and chicken curry.
It was wonderful seeing golfers from all over South Africa join us in Southbroom for this very special tournament, we look forward to seeing them all again in July 2021.
Click here to view all the wonderful memories made on our Facebook page.
Click here to be placed on the 2021 invitation list – Monday 5th to Friday 9th July 2021.
Results
OVERALL WINNERS
1
Bob Thomas & Pat Cronin
129
2
Howard Kelly & Anthony Hughes
125
3
Gary Purtell & Clive Miller
124
4
Dave Donald & Jan Pienaar
123
5
Ken Crawford & Alex Crawford
123
6
Mike Vd Riet & Kevin Kassel
122
7
Tommy Paulsen & Tommy Farndell
122
8
Malcolm Greenland & Hennie Van Aardweg
121
9
Alan Sutton & Jack Noble
120
10
Graham Volck & Peter Volck
119
11
Andy Rex & Grenville McWilliams
119
12
Barry Elliot & Mike Anthony
118
WINNERS – DAY 1 – Thursday 24th September
1st
Andy Rex & Grenville McWilliams
43 pts
2nd
Barry Elliott & Mike Anthony
43 pts
3rd
Vic Hoops & Dawie Vd Merwe
42 pts
4th
Gary Baker & Brian Baker
41 pts
NEAREST THE PINS
4th
Anthony Leviton
8th
Jack Noble
11th
Glyn Griffiths
14th
Vic Hoops
Pro Shop Lucky Draw
Grant Harding
WINNERS – DAY 2 – Friday 25th September
1st
Gerhardus & Francois Bothma
47 pts
2nd
Howard Kelly & Anthony Hughes
47 pts
3rd
Clive Miller & Gary Purtell
45 pts
4th
Alan Sutton & Jack Noble
44 pts
NEAREST THE PINS
4th
Mike Robinson
8th
Greg Heath
11th
Jan Pienaar
14th
Alex Crawford
Pro Shop Lucky Draw
Dave Fox
WINNERS – DAY 3 – Saturday 26th September
1st
Bob Thomas & Pat Cronin
48 pts
2nd
Grant & Thomas Abbott
46 pts
3rd
Mike Vd Riet & Kevin Kassel
44 pts
4th
Dave Donald & Jan Pienaar
43 pts
NEAREST THE PINS
4th
Malcolm Greenland
8th
Dave Dowding
11th
John Fox
14th
David McFarlane
Pro Shop Lucky Draw
Dave Fox
TOURNAMENT SPONSORSPLEASE SUPPORT OUR SPONSORS, THEY MADE IT POSSIBLE
Hibiscus Brokers
Ubuntu Resource Management
CTL Group Holdings LTD
Realty One Southbroom
Bandit Golf
Birdi Clothing
Callaway Golf
Cleveland Golf
Cutter & Buck
Emthunzini Hats
FootJoy
Maser Security
Mizuno Golf
Pringle Of Scotland
Puma Golf
Riverbend Art & Wine
Southbroom Pro Shop
Srixon
Stegman Golf
Swagg Clothing
Titleist
Under Armour