30 August – 3 September
The 1st Men's Southbroom Amateur Classic was played from 30th August- 3rd September 2021. It was a successful tournament played in typically unpredictable September conditions with lots of entertainment, food, drink, friendship and laughter involved!
Congratulations to the winners, the top 12 being:
OVERALL WINNERS
1
Werner Duggan & Bo Bergqvist
161
2
Rupert Niebuhr & Heinz Niebuhr
160
3
Peter Leeming & Bob Carmichael
159
4
Alan Hall & Gary Purtell
159
5
Dawie Rynners Snr & Kobus De Villiers
158
6
Clive Miller & Malcolm Greenland
155
7
Andreas Bossard & Anton Leal
154
8
Steve Pieterse & Francois De Kock
153
9
Hennie Van Aardweg & Alister Miller
153
10
Richard Newton & Michael Hartridge
150
11
Joe Sutton & Sam Hewat
149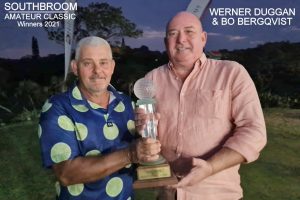 Our 31st Southbroom Amateur Classic was once again a great success. There were 84 players  (less than usual due to COVID and the necessary sudden date change from July to August.) The players had a great time playing in good weather with the golf course playing really nicely and some excellent scores were produced.
To spice things up a bit, the wind blew really hard for the last nine holes on Friday .
In fact the four day tournament came down to the wire with Bo Bergqvist and Werner Duggan winning on a score of 161 points, only one point ahead of  father son team Rupert and Heinz Niebuhr.
Finishing third and fourth were Peter Leeming and Bob Carmichael winning the count out against Gary Purtell and Alan Hall on 159.
Fifth place and only three points behind first place was Dawie Rynners senior and Kobus de Villiers on 158 points. So a very exciting finish!
Alan Hall representing Hibiscus Brokers, our main umbrella sponsor had a great time with  seasoned player partner Gary Purtell of Realty 1 Southbroom who once again spoilt all the players on the 10th tee.
It was Alan's first Classic and he and Gary enjoyed leading from the start, only to be pipped at the finish. So well done Alan Hall and Thanks Again to  Hibiscus Brokers Xavier Pollett and Terence Barkhuizen who were without doubt the best dressed pair and had the entire field in hysterics with their spirited antics.  Xavier has built a new wedding venue on the coast called Casa Alexandra at Beautiful East in Ramsgate and we are sure it will prove to be as exciting as they are. Thanks to Christer Solgevik for sponsoring the Allee Bleue wine in the players welcome bags.
Thanks to our Southbroom ladies helping starting each day.  We extend a massive thanks to all our all our sponsors and players who love and support Southbroom and the South Coast Due to Covid Regulations the club house functions were restricted this year, but Well done to Michelle & Thembi &  Club house Team for all the great meals  that continually flowed out.
Special thanks to Nick and family for the Potjie Evening!    Talented Singer Rickie and his mellow guitar provided a great background music vibe for the final evening  that rounded off the event so well.
It was wonderful seeing golfers from all over South Africa join us in Southbroom for this very special tournament, we look forward to seeing them all again in July 2022.
Click here to view all the wonderful memories made on our Facebook page.
Click here to be placed on the 2022 invitation list – Monday 4th to Friday 8th July 2022.
Results
OVERALL WINNERS
1
Werner Duggan & Bo Bergqvist
161
2
Rupert Niebuhr & Heinz Niebuhr
160
3
Peter Leeming & Bob Carmichael
159
4
Alan Hall & Gary Purtell
159
5
Dawie Rynners Snr & Kobus De Villiers
158
6
Clive Miller & Malcolm Greenland
155
7
Andreas Bossard & Anton Leal
154
8
Steve Pieterse & Francois De Kock
153
9
Hennie Van Aardweg & Alister Miller
153
10
Richard Newton & Michael Hartridge
150
11
Joe Sutton & Sam Hewat
149
WINNERS – DAY 1 – Monday 30th August
1st
Alan Hall & Gary Purtell
45 pts
2nd
Dawie Rynners Snr & Kobus De Villiers
44 pts
3rd
Andreas Bossard & Anton Leal
43 pts
4th
Peter Leeming & Bob Carmichael
43 pts
NEAREST THE PINS
4th
Gary Purtell
8th
Clive Miller
11th
Xavier Pollet
14th
Hein Huyser
Pro Shop Lucky Draw
 Terence Barkhuizen
WINNERS – DAY 2 – Tuesday 31st August
1st
Hennie Van Aardweg & Alister Miller
43 pts
2nd
Mark Surtees & Digby Levenson
42 pts
3rd
Rupert Niebuhr & Heinz Niebuhr
42 pts
4th
Richard Newton & Michael Hartridge
41 pts
NEAREST THE PINS
4th
Dean Middlemas
8th
Peter Leeming
11th
Bob Carmichael
14th
Bob Carmichael
Pro Shop Lucky Draw
 Kevin Kassell & Joe Smit
WINNERS – DAY 3 – Thursday 2nd September
1st
Steve Pieterse & Francois De Kock
43 pts
2nd
Werner Duggan & Bo Bergqvist
42 pts
3rd
Richard Newton & Michael Hartridge
41 pts
4th
Russell Mackenzie & Ollie Burnett
41 pts
NEAREST THE PINS
4th
Grant Abbott
8th
Andre Nel
11th
Dave Dowding
14th
Brian Blackstock
Pro Shop Lucky Draw
 Kevin Kassel & Joe Smit
WINNERS – DAY 4 – Friday 3rd September
1st
Alan Sutton & Jack Noble
43 pts
2nd
Rupert Niebuhr & Heinz Niebuhr
43 pts
3rd
Ian Fuller & Adrian Blom
42 pts
4th
Andreas Bossard & Anton Leal
42 pts
NEAREST THE PINS
4th
Ig Erasmus
8th
Joe Sutton
11th
Raefe Dyer
14th
Kevin Daly
Pro Shop Lucky Draw
 Mike Anthony & Richard Mills
TOURNAMENT SPONSORSPLEASE SUPPORT OUR SPONSORS, THEY MADE IT POSSIBLE
Hibiscus Brokers
Ubuntu Resource Management
CTL Group Holdings LTD
Realty One Southbroom
Titleist
FootJoy
Cleveland Golf
Casa Alexandra Wedding Venue
Simarki
Cutter & Buck
Srixon
Mariners Seafood Restuarant
Riverbend- Art & Wine
Beaver Creek Coffee
Midea
Skechers
Puma
Under Armor
Christer Solgevik
Custom Apparel
Emthunzini Hats
Birdi
Stegman Golf
Maser Security
Bandit Golf
Mizuno
Nashua