4th – 8th July 2022
The 32nd Men's Southbroom Amateur Classic was played from Monday 4th – Friday 8th July 2022. It was a successful tournament played in pristine South Coast winter conditions with lots of entertainment, food, drink, friendship and laughter involved!
Congratulations to the winners, the top 12 being:
OVERALL WINNERS
1
Grant Poppesqou & Norman Leys
178
2
Andrew Rex & John Beaumont
173
3
Pat Cronin & Bob Thomas
172
4
Tony Hudson & Glynn Sinclair
171
5
Brian Harris & Brad Trevethan
168
6
Louwrens Meintjies & Adriaan Engelbrecht
167
7
Clive Miller & Hennie Van Aardweg
166
8
Phil Verwey & Martin Hutton
165
9
Alex Crawford & Bob Clark
164
10
Malcolm Greenland & Alister Miller
164
11
Detlef Wichmann & Derek Oelofse
163
12
Richard Mills & Mike Anthony
160
13
Francois De Wit & David Van Staden
160
14
Rupert Niebuhr & Heinz Niebuhr
159
15
Andre De Klerk & Craig McDonald
159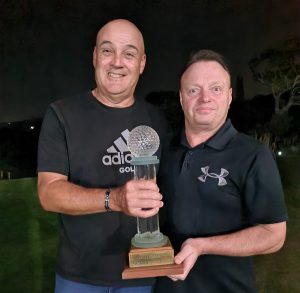 The 32nd Mens Amateur Classic was once again, a great success. As the country finally moved away from most of its Covid regulations, Southbroom was able to put on a 'restriction free' tournament for the first time in what seemed an absolute age!
The tournament cannot be had without the players, and they obliged. 160 men from all over the country, some from overseas, made the trek down to Southbroom to make it a truly special, full event.
The Classic moved back into its more regular mid-winter slot rather than last year's early September date. True to form July delivered 4 pristine Southbroom winter days which allowed for a competitive, high scoring classic.
While there were many teams who threatened the summit, there was one team who couldn't be beaten for consistency. Grant Poppesqou & Norman Leys started on Monday with an incredible 47 points, albeit only 1 point ahead of second, and managed to keep mistakes to a minimum. Scores of 47, 43, 43 & 45 saw them win the 2022 Men's Amateur Classic by 5 points ahead of second place finishers, Andrew Rex & John Beaumont.
Considering the floods KZN experienced in April this year, the course played well. Well done to Charl and his team for their hard work.
The evenings were full of entertainment. Monday night Ricky Muso played, Dix thoroughly entertained us on Thursday and The Gentry rocked the final night. Gavin and his team did a wonderful job navigating the dreaded, ever-changing load shedding schedule. The food was superb!
On the Tuesday night, Xavier Pollett and his team at Beautiful East put on a great evening for the Classic players and their partners. Showcasing their beautiful Guesthouse, they put on Live music, food and drink for all and a chance to see if you can out-drive a Professional long drive Champion. Well done Xavier and your team on a superb evening!
Thank you to Alan Hall and Hibiscus Brokers for their Umbrella sponsorship, his team entertained all on the 10th tee on the final day with some much needed drinks.
Gary, Rene, & Deanne Purtell at Realty One looked after the players with Beaver Creek Coffee, Whiskey and a Keg through the week. I'm sure many players enjoyed that small break from golf, thank you!
Xavier and the guys from Crank, tested the players length off the tee on Monday. Quite scary how far Thorn hits it!
Thanks to our Southbroom ladies helping starting each day.  We extend a massive thanks to all our all our sponsors and players who love and support Southbroom and the South Coast.  Well done to Michelle & Thembi &  Club house Team for all the great meals  that continually flowed out and to Nick Van Deventer for the Splendid Potjie on Thursday evening.
It was wonderful seeing golfers from all over South Africa join us in Southbroom for this very special tournament, we look forward to seeing them all again in July 2023.
Click here to view all the wonderful memories made on our Facebook page.
This year we also have fantastic professional photos taken by Jhenae de Heer of all the players. You can view them all here, and if you would like to purchase any of them, please contact Jhenae  on her facebook page  or directly. 082 303 1563
Click here to be placed on the 2023 invitation list – Monday 3th to Friday 7th July 2023
Results
OVERALL WINNERS
1
Grant Poppesqou & Norman Leys
178
2
Andrew Rex & John Beaumont
173
3
Pat Cronin & Bob Thomas
172
4
Tony Hudson & Glynn Sinclair
171
5
Brian Harris & Brad Trevethan
168
6
Louwrens Meintjies & Adriaan Engelbrecht
167
7
Clive Miller & Hennie Van Aardweg
166
8
Phil Verwey & Martin Hutton
165
9
Alex Crawford & Bob Clark
164
10
Malcolm Greenland & Alister Miller
164
11
Detlef Wichmann & Derek Oelofse
163
12
Richard Mills & Mike Anthony
160
13
Francois De Wit & David Van Staden
160
14
Rupert Niebuhr & Heinz Niebuhr
159
15
Andre De Klerk & Craig McDonald
159
WINNERS – DAY 1 – Monday 4th July
1st
Grant Poppesqou & Norman Leys
47 pts
2nd
Louwrens Meintjies & Andriaan Engelbrecht
46 pts
3rd
Richard Mills & Mike Anthony
44 pts
4th
Detlef Wichmann & Derek Oelofse
44 pts
NEAREST THE PINS
4th
Shane Moore
8th
Hennie Michau
11th
Martin Hutton
12th
Martin Hutton
14th
Tony Singleton
Pro Shop Lucky Draw
 Udo Topka
WINNERS – DAY 2 – Tuesday 5th July
1st
Ken Little & Peter Annesley
47 pts
2nd
Tony Hudson & Glynn Sinclair
45 pts
3rd
Andrew Rex & John Beaumont
45 pts
4th
Clive Miller & Hennie Van Aardweg
44 pts
5th
Jason Ackerman & Matthew Winterbottom
44 pts
NEAREST THE PINS
4th
Pierre Vd Walle
8th
Mark Kassner
11th
Danie Gouws
12th
Clive Meyer
14th
Ken Little
Pro Shop Lucky Draw
 Ig Erasmus
WINNERS – DAY 3 – Thursday 7th July
1st
Geoff Evans & Theo Nicholls
46 pts
2nd
Andre De Klerk & Craig McDonald
46 pts
3rd
Pat Cronin & Bob Thomas
46 pts
4th
Brian Harris & Brad Trevethan
45 pts
5th
Louwrens Meintjies & Adriaan Engelbrecht
45 pts
NEAREST THE PINS
4th
Mike Anthony
8th
Hennie Van Aardweg
11th
Tony Luyt
12th
Alex Paulsen
14th
Clive Meyer
Pro Shop Lucky Draw
 Xavier Pollett
WINNERS – DAY 4 – Friday 8th July
1st
Alex Crawford & Bob Clark
45 pts
2nd
Malcolm Greenland & Alister Miller
45 pts
3rd
Kevin Feinberg & Clint Mansfield
45 pts
4th
Andre Rex & John Beaumont
44 pts
NEAREST THE PINS
4th
Grant Abbott
8th
Mike Downie
11th
Grant Harding
12th
Brad Trevethan
14th
Ashley Thorn
Pro Shop Lucky Draw
 1st- Steve Lamont
2nd- Richard Mills
TOURNAMENT SPONSORSPLEASE SUPPORT OUR SPONSORS, THEY MADE IT POSSIBLE
Hibiscus Brokers
Ubuntu Resource Management
CTL Group Holdings LTD
Realty One Southbroom
Beautiful East
Mariners Seafood Restaurant
Srixon
Cleveland Golf
Swagg
Simarki
Riverbend Art & Wine
Callaway
Stegman Golf
Barnic Sports
Bandit Golf
Under Armour
Christer Solgevik
Puma
Nike
Maser Security
Custom Apparel
Emthunzini Hats
Birdi
Titleist
Beaver Creek
FootJoy
Southbroom Pro Shop
Flat Cat Putter Grips
Umdoni GC
South Coast Audi & Volkswagen
Suzuki