10 to 12 May 2015
Whew, the 2015 Ladies Classic is done & dusted and by all accounts it was another most happy and enjoyable event.
Congratulations to the winners, the top 10 being:
2015 Leaderboard
Pts
1
Lorraine Cook & Janice Lang
135
2
Sandy Fitzgerald & Gill Huddy
132
3
Jimmie Brighton & Nola Hogan
132
4
Joy Crutchfield & Michelle vd Hoek
132
5
Janet Humphrey & Lynne Blackstock
131
6
Geraldine Treherne & Natasha Anthony
131
7
Sue Donald & Di Johnstone
129
8
Jenny Holford & Sarajane Bartlett
129
9
Beryl Barry & Doreen Ensor Smith
129
10
Anne Clarke & Lilian Boyle
129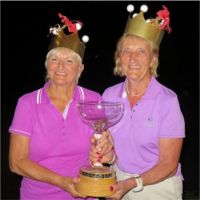 A huge thank you to Augi and the Ladies Classic Committee and all the Southbroom Staff who worked really hard to make it a very special Tournament. There was the initial extra challenge with the bigger field, but in the end all worked well.
Our Winners, Southbroomers Lorriane Cook & Janice Lang, defended their title with 3 days of exceptional scoring :- 50, 53 and then 50 points finishing 21 points ahead of 2nd 3rd & 4th place. They played really well but first place was basically decided after 2 days as they were then 13 points ahead with one round to go. This unusual situation may see us chop handicaps during the event next year.
Thank you to all the numerous Sponsors , see next weeks mail for more detail, some of whom manned their tees all 3 days! Realty1 with Beaver Creek Coffee on the 10th, Dave Page on the the 13th with his special signature Pate & Sherry. Tom Dick & Harry on the 4th. and the Blackstocks and the Lambs on the 8th.
I do need to single out some special members. Thank you to Irene & Erwin Schanda & Shelley Myers for amazing Décor along the Grease Theme together with Mari Fielden who did the indoor flowers and some indoor special decorations as well. To Kerry Fielden who was the Announcer throughout the 3 day event and Richard Bridgeford for his camera skills and starting 6 fields on the 1st tee! Joy Crutchfield was just everywhere co-ordinating all and did the great parking spot decals! Pam Quarmby for her dedication to the outdoor flowers .
Thanks to all the members who stepped forward to help with marshalling and starting and of course starring in the Saturday night Fashion Show and the main show on Sunday night! The local cast of Grease brought the house down and was deemed the best Classic show ever! Huge Thanks to Thia Hulme for her time & dedication and excellent choreography and to Elma from Karisma for all her professional Make Up.
If not before, we look forward to seeing you all again in The 2016Ladies Classic.
For a few fond memories, click to see all the pics on facebook!!
Click here to be placed on the 2016 invitation list.
Results
OVERALL WINNERS
1
LORRAINE COOK & JANICE LANG
135
2
SANDY FITZGERALD & GILL HUDDY
132
3
JIMMIE BRIGHTON & NOLA HOGAN
132
4
JOY CRUTCHFIELD & MICHELLE vd HOEK
132
5
JANET HUMPHREY & LYNNE BLACKSTOCK
131
6
GERALDINE TREHERNE & NATASHA ANTHONY
131
7
SUE DONALD & DI JOHNSTONE
129
8
JENNY HOLFORD & SARAJANE BARTLETT
129
9
BERYL BARRY & DOREEN ENSOR SMITH
129
10
ANNE CLARKE & LILIAN BOYLE
129
11
LUZ DA SILVA & PAM NAIDOO
127
12
TAMMY MURPHY & MARGARET SHERRATT
127
13
HEATHER STEPPE & KATH JARVIS
126
14
GILL WOOD & GLYNIS HUTTON
125
15
RHONA TOPKA & HELENE LINDER
125
16
SANDY BURNARD & JANYNE MARAIS
124
17
LYNN SIMPSON & CAROL DIXON
124
WINNERS – DAY 1 – SUNDAY
1st
BERYL BARRY & DOREEN ENSOR SMITH
50
2nd
LORRAINE COOK & JANICE LANG
50
3rd
ANNE CLARKE & LILIAN BOYLE
47
4th
LYNN SIMPSON & CAROL DIXON
47
NEAREST THE PINS
Pin 4th
Rose Bishop
Pin 8th
Nola Hogan
Pin 11
Jenny Westray
Pin 14
Wendy Lamb
WINNERS – DAY 2 – MONDAY
1st
LORRAINE COOK & JANICE LANG
51
2nd
JOY CRUTCHFIELD & MICHELLE vd HOEK
47
3rd
SHAN TRIMBORN & SUE ROHWER
46
4th
MARGARET TANNER & HILARY CLARKE
46
NEAREST THE PINS
Pin 4th
Ina Sanders
Pin 8th
Lilian Boyle
Pin 11
Heather Steppe
Pin 14
Judy Morgan
NEAREST FOR 2
5th
Elaine du Plessis
15th
Judy Morgan
STRAIGHTEST DRIVE
15th
Judy Morgan
WINNERS – DAY 3 – TUESDAY
1st
DEE ANN PERSON & MELANIE TREVALYN
49
2nd
LUZ DA SILVA & PAM NAIDOO
48
3rd
JANET HUMPHREY & LYNNE BLACKSTOCK
47
4th
SANDY FITZGERALD & GILL HUDDY
46
NEAREST THE PINS
Pin 4th
Karen Ransome
Pin 8th
Lynne Blackstock
Pin 11
Cathy Bartlett
Pin 14
Lynne Blackstock
LONGEST DRIVE
0-18
Natasha Anthony
19+
Melanie Trevelyan
BEST DRESSED
1st
Helene Linder & Rhona Topka
Tied 2nd
Margie Bonini & Candida Amm
Noelene Ross & Karen Chandler
Jenny Holford & Sarajane Bartlett
Jenny Beron & Sheree Lloyd
Brenda Shimmon & Sue Phillips
Ina Sanders & Petro Oosthuizen
TOURNAMENT SPONSORS
PLEASE SUPPORT OUR SPONSORS, THEY MADE IT POSSIBLE
Adidas
African Game Bags
Applied Outsourcing
Arc Sportswear
Bandit Golf
Barbara Cannon
Beaver Creek Coffee
Best of Golf
Brand House
Bravacious
Brian Hoggart
Callaway
Camelot Spa
Coca Cola
Coles Kithens
Colleen's Cosmetic House
Coral Tree Colony
Crocs Golf Shoes
Cutter & Buck
Daiken
Dave & Lee Mutch
Dolphin Paving
Douglas Green Bellingham
Dry Dog
Emthunzini Sun Hats
FootJoy
Giorgios
Glendower Golf Club
Glodina Black Label
Golf House
Gus & Margi Bonini
Heat Defence
Holster
Howard Buttery
Janet Humphrey
John Burnett
Karisma Hair & Beauty
Lake Navarone
Leisure Brands
Lynne Blackstock
MacBanana
Marxelles Day Spa
Mel & Michelle Davies
Melaskin
Mizuno
Nike Golf
Peak Pals
Pringle
Qaftans & Qi
Ramsgate Service Station
Realty 1 Southbroom
Richard & Les Savage
Riptide Restaurant
Riverbend Art & Wine
Simarki Tees
Southbroom Pro Shop
South Coast Refrigeration & Air-Conditioning
Spar
Srixon
St Michael's Sands
Swagg
Tenacious Engineering
The Bridgefords
Titleist
Tom, Dick & Harry
Trattoria La Terazza
UGU South Coast Tourism
Union Motors