8 to 10 May 2016
The 2016 Ladies Classic is done & dusted and by all accounts it was another most happy and enjoyable event.
A rainy Sunday washed out the first day's play, reducing the tournament from 54 to 36 holes.
Congratulations to the winners, the top 10 being:
2016 Leaderboard
Pts
1
Tessa Hinton & Jo Morley- Jepson
91
2
Jenny Ralph & Liz Davies
83
3
Jo Ledden & Anna- Mart Steyn
83
4
Margaret Bonini & Olive Heimstra
82
5
Meryl Chambers & Solange Fox
81
6
Julie Walker & Lorraine Cook
81
7
Maritha De Beer & Queenie Becker
80
8
Sandy Fitzgerald & Gill Huddy
80
9
Cathy Van Blerk & Chris Fayne- Harvey
80
10
Karen Bridgeford & Shirley Jeffery
80
What a wonderful Ladies Southbroom Amateur Classic   May 8-10 2016
We welcomed all the Ladies on Saturday afternoon in the rain and it then kept on raining for the next thirty hours.  The Saturday evening welcome cocktail party with its Hawaiian/ beach party theme set the tone for the tournament and the fashion show and our local ace band "The Legends" made for a fun filled Saturday night.


A few of the Ladies who played in the Tournament gathered for this great photo
Thanks to Legends Players – Richard Bridgeford, Des Erasmus, Mel Davies and Josh Pretorius for sharing your talents starting the party so well! The fashion show was as colourful & stylish as always and even included the guys wearing wetsuits. (we didn't realise how appropriate that would turn out to be!) Thanks to all our volunteer SuperModels! One of the features of the Ladies Classic is how beautifully the ladies dress throughout the tournament and this year was no exception.
It may have rained, but that didn't stop our ladies from having a good time!
Waking up to pouring rain on Sunday morning (which flooded the golf course making it unplayable) put a bit of a damper on the golf but not on the ladies spirits. Breakfast at the club was enjoyed by all and I did a golf clinic in the torrential rain with all the ladies on the veranda. It simply rained too hard all day for there to be any golf and course was unplayable with the 120mls needing to drain away. But the ladies made the most of the day and night and gradually the skies lightened.
| | | |
| --- | --- | --- |
| 'The Legends' rocked the welcome Cocktail Party | | Fashion Show! |
Sunday night was the main entertainment night
Starting with dinner and then a show skit, put on by our group of lady members led by Lady Captain Rene Matthew and trained by a very patient and super dance instructor, Deanne Purtell. Dane & Dj were also in the show, together with Jean Cole, Janet Humphrey, Allyson Thomas, Candida Amm, Jeanette Peyios, Michelle Davies, and of course Rene. The theme was the Beach boys. And the evening turned into a beach party of note! Our special performer Winston Smile was an amazing singer / showman and wowed everyone with his whole repertoire, including singing Opera that gave one goose bumps!
| | |
| --- | --- |
| Beach Boys Show featuring serious local talent | Thanks to the Local volunteers! |
Thanks to so many special members who all put in a whole lot of effort and helped with the costumes, props and décor for the evening. Special Thanks to Irene Schanda, who sadly had to leave for Austria with the sudden sad passing of her mother. Irene & Shelly Myers had worked hard with the models and actors outfits and Erwin Schanda once again did fabulous decor work. Local entertainer Winston Smile  wowed the ladies & had the entire room dancing till late. Gavin's staff of Adri, Thembi, Pete and all the bar staff put on a great show of delicious food and great service altogether creating a superb evening.
Monday morning was lovely with a little breeze which turned into quite a wind which also helped dry the course
The golf course played quite tough and good scoring was never going to be easy. The best score on day one was 44 points by Margi Bonini and Olive Heimstra with the teams of Tessa Hinton & Jo Morley – Jepson, and Karen Bridgeford & Shirley Jeffery trailing by one on 43 points each. There were a number of teams in with a chance with only one round to go.
Tuesday was a gorgeous morning with a shotgun start at 8am and the ladies were quickly into the swing of things. Scoring was good on a much drier golf course and the ladies looked special in their beautiful attire. The field was blown away by Tessa Hinton and Jo Morley-Jepson who made 48 points for a total of 91. To be crowned our new Classic Champions!

In second place were Jenny Ralph and Liz Davies beating Jo Ledden and Anna-Mart Steyn on a count out. It was so nice to finish the Classic on a good note with some fine sunny weather.


Top 6 teams
A big thank you must also go out to all our sponsors and especially those who manned their tees and spoilt the players! Thanks to active tee sponsors Realty 1 Southbroom, Coral Tree Colony, South Coast Refrigeration & Lynne Blackstock!
Well Done again to the hard working Ladies Committee and special thanks Deanne Purtell , Karen de Rosa and Chanel of The 3 Black Dresses for all the wonderful décor, enthusiasm and transforming the club house magically. Thanks to dapper, silky voiced announcer Kerry Fielden & our handsome starters Mel Davies & Bob Thomas. Also our roving paparazzi photographers, Rose Bishop, Dawne Murray & Richard Bridgeford who captured the essence of the tournament with their artistic eyes and fabulous lenses. Course Marshals / Rules Ladies – Augi D Ewes & Di Morris. and efficient Registration Ladies Angela, Heather & Nicola.
All the Tournament pictures can be found on the Southbroom Golf Club Facebook page
Click Here to view the photo's on Facebook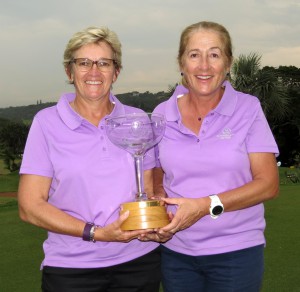 Click here to be placed on the 2017 invitation list.
Results
OVERALL WINNERS
1
TESSA HINTON   JO MORLEY-JEPSON
91
2
JENNY RALPH   LIZ DAVIES
83
3
JO LEDDEN   ANNA-MART STEYN
83
4
MARGARET BONINI   OLIVE HEIMSTRA
82
5
MERYL CHAMBERS   SOLANGE FOX
81
6
JULIE WALKER   LORRAINE COOK
81
7
MARITHA DE BEER QUEENIE  BECKER
80
8
SANDY FITZGERALD   GILL HUDDY
80
9
CATHY VAN BLERK   CHRIS FAYNE-HERVEY
80
10
KAREN BRIDGEFORD   SHIRLEY JEFFERY
80
11
JANET HUMPHREY   SHELLEY MYERS
79
12
KIM USHER   MARIETTE PIETERSE
79
13
CAROL DIXON  LYNDA JOHNSON
79
14
LYNNE BLACKSTOCK   NICCI STEYN
79
15
JANN BLATCH   PAULA FORSSMAN
78
16
KAREN RANSOME  SHIRLEY HUBBARD
78
17
MARI FIELDEN  MARGARET SHERRATT
77
18
MARI FIELDEN  MARGARET SHERRATT
77
WINNERS – DAY 1 – SUNDAY
RAINED OUT
WINNERS – DAY 2 – MONDAY
1st
MARGARET BONINI & OLIVE HEIMSTRA
44
2nd
TESSA HINTON & JO MORLEY- JEPSON
43
3rd
KAREN BRIDGEFORD & SHIRLEY JEFFERY
43
4th
JULIE WALKER & LORRAINE COOK
41
NEAREST THE PINS
Pin 4th
Mari Fielden
Pin 8th
Paula Moon
Pin 11
Anne Christie
Pin 14
Lynne Blackstock
NEAREST FOR 2
5th
Lilian Boyle
15th
Queenie Becker
WINNERS – DAY 3 – TUESDAY
1st
TESSA HINTON & JO MORLEY-JEPSON
48
2nd
MARITHA DE BEER & QUEENIE BECKER
46
3rd
JENNY RALPH & LIZ DAVIES
46
4th
MERYL CHAMBERS & SOLANGE FOX
45
NEAREST THE PINS
Pin 4th
Silver- Geraldine Treherne
Pin 4th
Bronze- Nicci Steyn
Pin 8th
Silver- Debbie Berry
Pin 8th
Bronze- Binny Stephen
Pin 11
Silver- Di Wade
Pin 11
Bronze- Binny Stephen
Pin 14
Silver- Anne Christie
Pin 14
Bronze- Nolene Ross
LONGEST DRIVE
Silver
Jo Morley- Jepson
Bronze
Ruzanne Blyth
NEAREST FOR 2
5th
Silver- Maritha De Beer
5th
Bronze- Sandy Ainge
15th
Silver- Mariette Pieterse
15th
Bronze- Hilary Clarke
BEST DRESSED
First
Margaret Bonini & Olive Heimstra
Jenny Holford & Di Morris
Renate Clare & Sandy Ainge
Linda Surtees & Shirley Dallas
Lynne BLackstock & Nicci Steyn
Helene Linder & Rhona Topka
Hanalie Van Niekerk & Rieks Tilley
TOURNAMENT SPONSORS
PLEASE SUPPORT OUR SPONSORS, THEY MADE IT POSSIBLE
Africa Game Bags• Aquelle • Arc Sportswear Bandit Golf • Baobab • Beaver Creek•Best of Golf • Bob & Allyson Thomas• Brandhouse • Bravacious • Brian HoggartCallaway • Camelot Spa• Coral Tree Colony • Cutter & Buck•Daiken Air-conditioning . • Days at Sea • Derrik & Rene Matthew•Emthunzini Sun Hats • Giorgios Express• Grandslam/Leisure Brands•Haskins Jewellers • Horst & Trude Lehrer• Howard Buttery • Ilvas Country Crafts•Jim Di Mambro • John Burnett Insurance Brokers • La Trattoria • Lake Navarone•Leopard Rock • LG Air-conditioning• Lynne Blackstock • Mac Banana•Marburg Industrial Supplies• Margie Bonini • Marxelles Day Spa•

Mel & Michelle Davies • Melaskin• Mizuno • Nike • Nutri Bullet•

Oribi Gorge Hotel • Peak Pals • Pinnacle• Pringle • Ramsgate Service Station• Riptide Restaurant

Realty 1 Southbroom •San Lameer Hotel • Sensasia • Simarki• Southbroom Bottle Store•

Southbroom Pro Shop• South Coast Refrigeration • Spectra Derm•

Spoilt Rotten • Srixon Cleveland• St Michaels Sands •

Stylish Nails & Beauty for Holster Shoes• Swagg • Tamarind• Taylor Made • Techniblock