7 to 9 May 2017
The 2017 Ladies Classic is all over and by all accounts it was another most happy and enjoyable event.
A chilly, overcast Sunday was greeted by two glorious days on Monday & Tuesday.
Congratulations to the winners, the top 10 being:
2017 Leaderboard
Pts
1
Queenie Steyn & Maritha De Beer
131
2
Michelle Davies & Candida Amm
130
3
Paula Jardim & Enid Schonknecht
128
4
Marian Ledingham & Val Mackenzie
127
5
Luz Da Silva & Pam Naidoo
127
6
Tessa Hinton & Jo Morley-Jepson
126
7
Helene Linder & Rhona Topka
124
8
Melanie Kempe & Rose Bishop
124
9
Julie Walker & Lorraine Cook
123
10
Leigh Thackwray & Marion Heaney
123
The Ladies Classic was a blast!
And finally we had good weather to give to them after all the previous damp years! Well done to all the players, especially overall Winners, Queenie Steyn & Maritha de Beer from Pretoria – who won by one shot from Southbroom Lady Captain, Michelle Davies & Candida Amm –  Our Lady President!


DJ giving some quick tips before the Ladies tee it up on Sunday Morning!
Thanks to Legends Players –  Des Erasmus, Mel Davies, Jurgen and Josh Pretorius for sharing your talents starting the party so well! The fashion show was as colourful & stylish as always! One of the features of the Ladies Classic is how beautifully the ladies dress throughout the tournament and this year was no exception.
The Theme this year was Country & Western and what a successful theme. It was thoroughly embraced by all, with the Westlake Ladies even driving all the way up from the Cape in their 2017 Mustang which they arrived in great style for the party on Sunday evening! Everyone's outfits were brilliant throughout the entire tournament!
| | | |
| --- | --- | --- |
| It was great to see all the effort shown by the Ladies! | | Fashion Show! |
Sunday night was the main entertainment night
The Southbroom Line Dancers were brilliant, The Fashion show enjoyed the biggest line up of top models ever and the imported act of Dolly Parton and Kenny Rogers singing their duet of Islands in the Stream brought the house down! On Sunday Winston Smile had everyone up and dancing!
| | |
| --- | --- |
| Southbroom's own rendition of Islands in the Stream | Our top Lady Line Dancer's! |
Thanks to so many special members who all put in a whole lot of effort and helped with the costumes, props and décor for the evening. Gavin's staff of Adri, Thembi, Sarah, Pete and all the bar staff put on a great show of delicious food and great service altogether creating a superb evening.
Sunday morning was overcast, a little windy but never rained, phew!
The golf course was in immaculate condition, the weather did threaten, but luckily held off for the day. The scoring at the top set the trend for a very competitive tournament that kept many teams in play right to the final day. Leading after Day 1 was Luz Da Silva & Pam Naidoo who counted out Queenie Steyn & Maritha De Beer on 47 points, with Defending Champions, Tessa Hinton & Jo Morley- Jepson a close 1 point behind.
Monday was cool, but sunny!
With the sun out, we thought the scoring may get even better, it didn't but it remained as tight as ever with a new set of daily winners. Melanie Kempe & Rose Bishop had 46 points, beating off Paula Jardim & Enid Schonknecht, Lilian Boyle & Clare Pantcheff, and Liezel Van Achterbergh & Irma Visser all 1 back with 45 points.
Tuesday was a gorgeous morning with a shotgun start at 8am and the ladies were quickly into the swing of things. Scoring again we very close with Morag Magnussen & Michelle Grundy (46 points) fending off Sunday Van Der Riet & Wendy Huddy, Gwen James & Heather Clarke, Marian Ledingham & Val Mackenzie and Michelle Davies & Candida Amm all 1 back with 45 ponts.
This all resulted in a very close finish, Michelle Davies and Candida Amm had shot their best score for the tournament to finish second, 1 point behind eventual winners, Queenie Steyn & Maritha De Beer!

Your Top 14 Teams!
A big thank you must also go out to all our sponsors and especially those who manned their tees and spoilt the players! Thanks to active tee sponsors Realty 1 Southbroom, Coral Tree Colony, South Coast Refrigeration & Lynne Blackstock!
Well Done again to the hard working Ladies Committee and special thanks to Deanne Purtell (Dance Show Choreographer), Mari Fielden & Sandy Luus for all the wonderful décor, enthusiasm and transforming the club house magically. Thanks to our handsome starters Mel Davies & Bob Thomas.  Course Marshals – Gerald & Vic! And efficient Registration Ladies Angela & Nicola.
All the Tournament pictures can be found on the Southbroom Golf Club Facebook page
Click Here to view the photo's on Facebook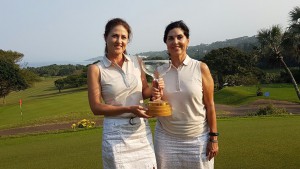 Winners! Congrats to Queenie Steyn & Maritha De Beer
Click here to be placed on the 2018 invitation list.
Results
OVERALL WINNERS
1
QUEENIE STEYN & MARITHA DE BEER
131
2
MICHELLE DAVIES & CANDIDA AMM
130
3
PAULA JARDIM & ENID SCHONKNECHT
128
4
MARIAN LEDINGHAM & VAL MACKENZIE
127
5
LUZ DA SILVA & PAM NAIDOO
127
6
TESSA HINTON & JO MORLEY- JEPSON
126
7
HELENE LINDER & RHONA TOPKA
124
8
MELANIE KEMPE & ROSE BISHOP
124
9
JULIE WALKER & LORRAINE COOK
123
10
LEIGH THACKWRAY & MARION HEANEY
123
11
SUSAN VAN DER RIET & WENDY HUDDY
122
12
IRENE SCHANDA & JANET HUMPHREY
122
13
GILL WOOD & GLYNIS HUTTON
122
14
SUE DONALD & LALLA ALEXANDER
122
15
AUGI DEWES & DI MORRIS
121
16
JENI MAGER & ANNE CHRISTIE
121
17
LIEZEL VAN ACHTERBERGH & IRMA VISSER
120
18
GWEN JAMES & HEATHER CLARKE
119
WINNERS – DAY 1 – SUNDAY
1st
LUZ DA SILVA & PAM NAIDOO
47
2nd
QUEENIE STEYN & MARITHA DE BEER
47
3rd
TESSA HINTON & JO MORLEY-JEPSON
46
4th
GILL WOOD & GLYNIS HUTTON
45
NEAREST THE PINS
Pin 4th
DI MORRIS
Pin 8th
BETSIE KOEN
Pin 11
JIMMI BRIGHTON
Pin 14
NOLA HOGAN
NEAREST FOR 2
5th
RITA DU PLESSIS
13th
JENI MAGER
15th
BARBARA DOWNIE
WINNERS – DAY 2 – MONDAY
1st
MELANIE KEMPE & ROSE BISHOP
46
2nd
PAULA JARDIM & ENID SCHONKNECHT
45
3rd
LILIAN BOYLE & CLARE PANTCHEFF
45
4th
LIEZEL VAN ACHTERBERGH & IRMA VISSER
45
NEAREST THE PINS
Pin 4th
LIZZIE CURRIE
Pin 8th
MELANIE KEMPE
Pin 11
IRENE SCHANDA
Pin 14
LIEZEL VAN ACHTERBERGH
NEAREST FOR 2
5th
JOY CRUTCHFIELD
13th
KAREN BURNS
15th
JO MORLEY-JEPSON
WINNERS – DAY 3 – TUESDAY
1st
MORAG MAGNUSSEN & MICHELLE GRUNDY
46
2nd
SUSAN VAN DER RIET & WENDY HUDDY
45
3rd
GWEN JAMES & HEATHER CLARKE
45
4th
MARIAN LEDINGHAM & VAL MACKENZIE
45
NEAREST THE PINS
Pin 4th
RENE MATTHEW
Pin 8th
 HEATHER CLARKE
Pin 11
LYNNE BLACKSTOCK (HOLE IN ONE)
Pin 14
BARBARA DOWNIE
LONGEST DRIVE
Silver
LIZZIE CURRIE
Bronze
KAREN BURNS
NEAREST FOR 2
5th
KAREN BURNS
13th
SHIRLEY DALLAS
15th
MARITHA DE BEER
BEST DRESSED
First
Candida Amm & Michelle Davies
Rieks Tiley & Denise Grobbelaar
Lynne Blackstock & Nicole Steyn
Queenie Steyn & Maritha De Beer
Alida Swart & Charlie Verster
Lee-Anne Varrie & Karen Burns
Helene Linder & Rhona Topka
Di Morris & Augi Dewes
Liezel Van Achterbergh & Irma Visser
Linda Surtees  & Shirley Dallas
TOURNAMENT SPONSORS
PLEASE SUPPORT OUR SPONSORS, THEY MADE IT POSSIBLE
• Aquelle • Arc Sportswear Bandit Golf • Baobab • Beaver Creek•Best of Golf • Bob & Allyson Thomas• Beatrice King  • Brian Hoggart • Camelot Spa• Coral Tree Colony • Cutter & Buck • Daiken Air-conditioning . • Della Kempthorne • Derrik & Rene Matthew • Estuary Hotel & Spa • Elizabeth Davies • Emthunzini Sun Hats • Giorgios Express • Golfino • Haskins Jewellers • Horst & Trude Lehrer• Howard Buttery • Hibiscus Insurance Brokers • Just So Chinese • John Burnett Insurance Brokers • Jo & Chris Ledden • La Trattoria • Lake Navarone • Leopard Rock • LG Air-conditioning• Lynne Blackstock • Mac Banana • Margate Panel Beaters • Madame Silver • Marxelles Day Spa • Mel & Michelle Davies •  Mizuno • Nike • Not Sheep • Outlook Trading Post • Peak Pals • Richard & Karen Bridgeford •  • Ramsgate Service Station • Riptide Restaurant • Realty 1 Southbroom • Riverbend Art & Wine • San Lameer Hotel • Sensasia • Simarki • Swing Sportswear • San Lameer Pro Shop • Southbroom Pro Shop • South Coast Refrigeration • Srixon Cleveland • Swagg • Tamarind • Tanya's • Taylor Made • Vic Pretorius • Ya Ya's