6 to 8 May 2018
The 2018 Ladies Classic was another roaring success, competitive, fashionable and 3 stunning  autumn days. Whoever arranged the weather did a fantastic job!
Congratulations to the winners, the top 10 being:
2018 Leaderboard
Pts
1
Trish Anderson & Anne Barrow
142
2
Patsy McDonic & Di Schlebusch
138
3
Gwen James & Heather Clarke
136
4
Michelle VD Hoek & Lizzie Currie
133
5
Sandy FitzGerald & Gill Huddy
132
6
Liezel Van Achterbergh & Mariette Pieterse
131
7
Sue VD Riet & Wendy Huddy
129
8
Rosheen De Kock & Bronwen Lambert
128
9
Lindsay Owen & Heather Kruger
127
10
Leigh Thackwray & Marion Heaney
127
The Ladies Classic was a blast!
What a great week the Ladies Classic was, 3 perfect days. No wind Sunday, with a light breeze on Monday & Tuesday blowing from the North one day, and from South the other. Hearty congratulations to our overall winners Anne Barrow & Trish Anderson, winning by 4 shots over Patsy McDonic & Di Schlebusch. Anne celebrated her birthday by winning the Classic, what a way to spend your special day!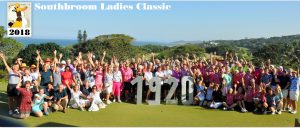 Saluting what was a good week of golf!
Thanks to Legends Players –  Des Erasmus, Mel Davies, Richard Bridgeford & Deon De Beer for sharing your talents starting the party so well! Saturday night's highlight was the Southbroom Pro Shop Fashion Show. Well done to all the models, you all looked great!
This years theme was 1920's Gatsby, and once again it was embraced by all. Walking through the clubhouse on Saturday and Sunday night you would have thought you might have travelled back to the 20's! The ladies all played their part, and looked simply fantastic.
| | | |
| --- | --- | --- |
| It was great to see all the effort shown by the Ladies! | | Fashion Show! |
Sunday night was the main entertainment night
Sunday night was the show, The Gatsby Girls got the ball rolling with a great dance, followed by a few innocent woman simply loosing patience with their inconsiderate partners. The night's show was wrapped up with Mamma, her partners in crime and a couple of mischievous cops getting up to all sorts on stage. If there is one thing we learnt from the show… "You do good for Mamma, She'll be good to you"
| | |
| --- | --- |
| The Harry Vardon Clinic (Played by DJ) | There was some stylish course fashion! |
Big thanks to Michelle Davies, Allyson Thomas & Irene Schanda  who all put in a whole lot of effort and helped with the costumes, props and décor for the evening. Gavin's staff of Brandon, Michelle, Tanith, Thembi, Wilson and all the bar staff put on a great show of delicious food and great service altogether creating a superb evening.
Sunday, what a perfect day!
Well Done to Charl and his team. The course was great, the weather near perfect, and the scoring didn't disappoint. Eventual winners, Anne Barrow and Trish Anderson set the bar high on Sunday shooting 49 points. The sizable chasing pack of Liezel Van Achterbergh & Mariette Pieterse (46 points) Carol Dixon & Heather Evans, Marian Ledingham & Val McKenzie, Trish Amm & Mosa Le Roux Lindsay Owen & Heather Kruger all one further point back on 45 points.
Monday felt like summer!
The slightest of breezes from the north was more than welcome as the predicted temperature from Monday was 33!
With the conditions good, the ladies again racked up the points, Rosheen De Kock & Bronwen Lambert, Sandy FitzGerald & Gill Huddy and Sue Van Der Riet & Wendy Huddy all getting 47 points. They all trailed the winners for the day, Patsy McDonic & Di Schlebusch by 1 point. Patsy and Di's 48 points made for an interesting final day as they had now pulled to within 2 shots of Tournament Leaders Anne Barrow & Trish Anderson to set up an exciting final round!
| | | |
| --- | --- | --- |
| Tuesday morning was again sunny, the cooling South West breeze very welcoming after the heat experienced on Monday. Gwen James and Heather Clarke seemed to welcome that slight breeze as they powered their way to a magnificent 51 points. Although a valiant final day effort, they could only manage 3rd overall. Anne and Trish had played consistently well over the course of the 3 days and managed to keep Patsy & Di at bay. Beating them by two points on Tuesday to win the Tournament by 4 shots. | | Your Top 10 Teams! |
A big thank you must also go out to all our sponsors and especially those who manned their tees and spoilt the players! Thanks to active tee sponsors Realty 1 Southbroom, Coral Tree Colony, Sensasia, Trattoria Le Terazza & Lynne Blackstock!
Well Done again to the hard working Ladies Committee and special thanks to Deanne Purtell (Dance Show Choreographer), to our Ladies Committee headed up by Michelle Davies, Allyson Thomas & Irene Schanda , and the rest of the Southbroom Ladies team for all the wonderful décor, enthusiasm and transforming the club house magically. Thanks to our handsome starters Mel Davies & Bob Thomas.  Course Mafia Marshals – Tim & Roy! And efficient Registration Ladies Angela, Karen & Jean.
All the Tournament pictures can be found on the Southbroom Golf Club Facebook page
Click Here to view the photo's on Facebook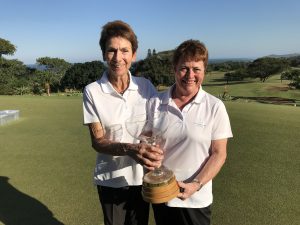 Winners! Congrats to Anne Barrow & Trish Anderson
Click here to be placed on the 2019 invitation list.
Results
OVERALL WINNERS
1
Trish Anderson & Anne Barrow
142
2
Patsy McDonic & Diane Schlebusch
138
3
Gwen James & Heather Clarke
136
4
Michelle VD Hoek & Lizzie Currie
133
5
Sandy FitzGerald & Gill Huddy
132
6
Liezel Van Achterbergh & Mariette Pieterse
131
7
Sue VD Riet & Wendy Huddy
129
8
Rosheen De Kock & Bronwen Lambert
128
9
Lindsay Owen & Heather Kruger
127
10
Leigh Thackwray & Marion Heaney
127
11
Marian Ledingham & Val McKenzie
127
12
Natalie Clayton & Tanya Bell-Jenje
126
13
Helene Linder & Rhona Topka
126
14
Lynette Stais & Ashley Bester
126
15
Rene Matthew & Kathy Bush
125
WINNERS – DAY 1 – SUNDAY
1st
Trish Anderson & Anne Barrow
49
2nd
Liezel Van Achterbergh & Mariette Pieterse
46
3rd
Carol Dixon & Heather Evans
45
4th
Marian Ledingham & Val McKenzie
45
NEAREST THE PINS
Pin 4th
Denise Grobbelaar
Pin 8th
Shirley Dallas
Pin 11
Sue Donald
Pin 14
Heather Clarke
NEAREST FOR 2
5th
Tessa Granger
13th
Gwen Ortlepp
15th
Jenny Ralph
WINNERS – DAY 2 – MONDAY
1st
Patsy McDonic & Diane Schlebusch
48
2nd
Rosheen De Kock & Bronwen Lambert
47
3rd
Sandy FitzGerald & Gill Huddy
47
4th
Sue Van Der Riet & Wendy Huddy
47
NEAREST THE PINS
Pin 4th
Lindsay Owen
Pin 8th
Gwen James
Pin 11
Marian Ledingham
Pin 14
Gwen Ortlepp
NEAREST FOR 2
5th
Debbie Berry
13th
Carol Dixon
15th
Wendy Huddy
WINNERS – DAY 3 – TUESDAY
1st
Gwen James & Heather Clarke
51
2nd
Michelle Van Der Hoek & Lizzie Currie
47
3rd
Trish Anderson & Anne Barrow
45
4th
Natalie Clayton & Tanya Bell-Jenje
45
NEAREST THE PINS
Pin 4th
Karin Dixon
Pin 8th
Gill Huddy
Pin 11
Lindsay Owen
Pin 14
Sandy Ainge
LONGEST DRIVE
Silver
Valerie Melvin
Bronze
Linda Aitken
NEAREST FOR 2
5th
Diane Schlebusch
13th
Irene Roy
15th
Anne Barrow
BEST DRESSED
First
Candida Amm & Michelle Davies
Lynne Blackstock & Nicole Steyn
Elizabeth Davies & Jenny Ralph
Lee-Anne Varrie & Karen Burns
Helene Linder & Rhona Topka
Liezel Van Achterbergh & Irma Visser
Linda Surtees  & Shirley Dallas
TOURNAMENT SPONSORS
PLEASE SUPPORT OUR SPONSORS, THEY MADE IT POSSIBLE
Beaver Creek • Beautiful Me • Bravacious • Applied Outsourcing • Aquelle • Accessori • Arc Sportswear • Bandit Golf • Baobab Gallery • Bob & Allyson Thomas • Candida Amm • Casa Toscana • Coral Tree Colony • Cutter & Buck • Changing Gears Spinning & Fitness • Erwin & Irene Schanda • Emthunzini Hats • Howard Buttery • Hibiscus Insurance • Brokers John Burnett Insurance Brokers • Jo & Chris Ledden • LG • LM Café' • Lake Navarone • La Cappanina • La Petit Truc D'Ann Sophi • Midea Air-conditioning • Lynne Blackstock • Mac Banana • Marxelle's Day Spa • Migamed Pharmacy • Mel & Michelle Davies • Mizuno • Nike • Nakai Home Stay • The Pack Shed • Peak Pals • Puma •  Qual Chem • Richard & Les Savage • Rib Rage Richard & Karen Bridgeford • Ramsgate Stationers • Riptide Restaurant • Realty 1 Southbroom • Riverbend • San Lameer Hotel • San Lameer Pro Shop • Sensasia Day Spa • Simarki • Swagg SG • Convenience • Southbroom Pro Shop •  South Coast Refrigeration & Air Conditioning • Southbroom Pharmacy • Srixon • Southbroom Golf Club • Trattoria la Terraza • Vic Pretorius • Wild Coast Sun • Della Kempthorne • Derrik & Rene Matthew •