12 TO 14 MAY 2019
The 2019 Ladies Classic was another roaring success, competitive, fashionable and 3 stunning  autumn days. Whoever arranged the weather did a fantastic job!
Congratulations to the winners, the top 10 being:
2019 LEADERBOARD
PTS
1
Lynne Blackstock & Karen Burns
129
2
Gill Huddy & Sandy FitzGerald
127
3
Wendy Counihan & Binny Stephen
121
4
Allyson Thomas & Shirley Jeffery
118
5
Irene Schanda & Janet Humphrey
117
6
Rieks Tiley & Denise Grobbelaar
117
7
Jennifer Abernethy & Tinker De Swart
117
8
Tessa Hinton & Jo Morley-Jepson
117
9
Morag Magnusson & Tessa Granger
116
10
Rachel Sellers & Heather Duvet
113
The Ladies Classic was a blast!
Another year, another enjoyable Classic! Well done to all who took part this year, it was really a special 16th Tournament. With the rains the course had experienced over the last month, we were blessed to have 3 days of Sun without a drop of rain. Congratulations to Lynne Blackstock and Karen Burns who were able to fend off Sandy FitzGerald & Gill Huddy by 2 points!


Saluting what was a good week of golf!
Thanks to Legends Players –  Des Erasmus, Mel Davies, Richard Bridgeford & Deon de Beer for sharing your talents starting the party so well! Saturday night's highlight was the Southbroom Pro Shop Fashion Show. Well done to all the models, you all looked great!
This years theme was 'Around the World in just 3 days' commemorating Southbroom Golf Club's 80th Birthday! It was incredible to walk through the club house on the Sunday night, seeing the ladies dressed up from different times and parts of the world. We had some Egyptians, Cow Girls, Mexicans, Hawaiian Dancers, Australians, Zulu Dancers, Leprechauns and the mighty All Blacks from New Zealand, just to name a few!
| | | |
| --- | --- | --- |
| It was great to see all the effort shown by the Ladies! | | Fashion Show! |
Sunday night was the main entertainment night
Carrying on with the theme of 'Around the world in 80 Days' Allyson Thomas (Lady Captain) and her merry team attempted to take the crowd around the world in roughly 15 minutes. We had acts from South Africa (Waka Waka) America (Born in the USA and It's Raining Men) Britain (The Beatles and Spice Girls) Sweden (ABBA) Spain (La Macarena) South Korea (Gangnam Style) and of course to finish it off was Freddy Mercury with Queen & We Will Rock You!
| | |
| --- | --- |
| Thanks to all our Sponsors! | There was some stylish course fashion! |
Big thanks to Allyson Thomas, Irene & Erwin Schanda and the rest the Busy Bees group from the Ladies Section  together  with Jenny Fox and Della Kempthorne who all put in a whole lot of effort and helped with the costumes, props and décor for the evenings & tournament in general. Gavin's Clubhouse staff of Thembi, Phet, Michelle, Sbu, Wilson and all the bar staff put on a great show of delicious food and great service altogether creating a superb evening.
After the Fashion Show and Nic's famous potjie on Saturday evening the ladies were straight to business on Sunday morning starting with Dj's Clinic at 9am and a Shotgun start at 10am. The wind was up early from the North and blew all day, it was by no means a gale force, but enough to remind you to take an extra club or two! The scoring was good and competitive with Sandy FitzGerald & Gill Huddy (39 pts) and Jennifer Abernethy & Tinker de Swart (40 pts) trailing the shared day one leaders of Lynne Blackstock & Karen Burns together with Wendy Counihan & Binny Stephen who had posted totals of 42 points each.
The Classic show and Winton Smile took center stage on Sunday evening. With great food, entertainment and music its was bound to be great party filled with company, dancing and many laughs! The Day started an hour earlier as we settled into the tournament and Mother Nature decided to change it up a bit, with a stronger wind blowing from the South. The ladies were definitely better equipped on Day two to battle the wind as the scoring was very good and still as competitive. Just 3 points separated 5 teams Rene Matthew & Kathy Bush (42 pts) Biffy Dunn & Isobel Fyfe (43 pts) Lynne Blackstock & Karen Burns, Sandy FitzGerald & Gill Huddy (All on 44 pts) Winning the day with an incredible 45 pts were our very own Lady and Vice Captain Team of Allyson Thomas & Shirley Jeffery.
| | | |
| --- | --- | --- |
| Going into the final day the scores were close, high scoring on the Monday brought many back into contention so there was a lot of excitement in the air. We were greeted to mainly overcast conditions, no wind at all meant we were in for a cracker of a day. Winning the final day with a staggering 49 points were Janet Humphrey and Irene Schanda. That haul blasted them all the way up the leader board to a very respectable 5th spot. For the Classic, it was a two horse race. Playing together Sandy FitzGerald and Gill Huddy would have to make up 3 points on Lynne Blackstock and Karen Burns to lift the trophy. While they played brilliantly on the final day, Lynne and Karen did equally as well to remain in touch and eventually came in with 43 points, 1 behind Sandy & Gill's tally of 44 points. That would be enough for Lynne and Karen to secure their first ever Ladies Classic by two shots. | | Your Top 10 Teams! |
A big thank you must also go out to all our sponsors and especially those who manned their tees and spoilt the players! Thanks to active tee sponsors Realty 1 Southbroom, Coral Tree Colony, Ubuntu Resource Management, Sensasia, Cathy Halliday Properties & Lynne Blackstock!
Well Done again to the hard working Classic Committee and special thanks to Deanne Purtell (Dance Show Choreographer), to our Ladies Committee headed up by Allyson Thomas, Shirley Jeffery & Irene Schanda , and the rest of the Southbroom Ladies team for all the wonderful décor, enthusiasm and transforming the club house magically.  A big thanks to the ever efficient Registration Ladies Angela Erasmus, Nicola McKenzie & Jean Blailey.
Thanks to all the Classic Photographers  -especially Richard Bridgeford and his on course roving lens and Gwen James for taking  the Team pics!
All the Tournament pictures can be found on the Southbroom Golf Club Facebook page
Click Here to view the photo's on Facebook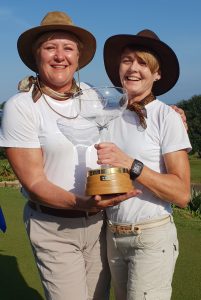 Winners! Congrats to Lynne Blackstock & Karen Burns
Click here to be placed on the 2020 invitation list.
RESULTS
OVERALL WINNERS
1
Lynne Blackstock & Karen Burns
129
2
Gill Huddy & Sandy FitzGerald
127
3
Wendy Counihan & Binny Stephen
121
4
Allyson Thomas & Shirley Jeffery
118
5
Irene Schanda & Janet Humphrey
117
6
Rieks Tiley & Denise Grobbelaar
117
7
Jennifer Abernethy & Tinker De Swart
117
8
Tessa Hinton & Jo Morley- Jepson
117
9
Morag Magnusson & Tessa Granger
116
10
Rachel Sellers & Heather Duvet
113
11
Rene Matthew & Kathy Bush
113
12
Katherine Gascoigne & Rita du Plessis
113
13
Jo Ledden & Lesley Godley
111
14
Leigh Thackwray & Sally Chalmers
111
15
Marian Ledingham & Val Mckenzie
110
WINNERS – DAY 1 – SUNDAY
1ST
Wendy Counihan & Binny Stephen
42
2ND
Lynne Blackstock & Karen Burns
42
3RD
Jennifer Abernethy & Tiker de Swart
40
4TH
Gill Huddy & Sandy FitzGerald
39
NEAREST THE PINS
PIN 4TH
Wendy Counihan
PIN 8TH
Lindsay Owen
PIN 11
Trish Anderson
PIN 14
Leigh Thackwray
NEAREST FOR 2
13TH
Karen Burns
WINNERS – DAY 2 – MONDAY
1ST
Allyson Thomas & Shirley Jeffery
45
2ND
Gill Huddy & Sandy FitzGerald
44
3RD
Biffy Dunn and Isobel Fyfe
43
4TH
Rene Matthew & Kathy Bush
42
NEAREST THE PINS
PIN 4TH
Tessa Hinton
PIN 8TH
Denise Grobbelaar
PIN 11
Wendy Lamb
PIN 14
Antha Uys
NEAREST FOR 2
13TH
Isobel Fyfe (2 Club)
WINNERS – DAY 3 – TUESDAY
1ST
Irene Schanda & Janet Humphrey
49
2ND
Jo Ledden & Lesley Godley
43
3RD
Gill Huddy & Sandy FitzGerald
42
4TH
Rieks Tiley & Denise Grobbelaar
42
NEAREST THE PINS
PIN 4TH
Lee Varrie
PIN 8TH
Edith Blum
PIN 11
Solange Fox
PIN 14
Rachel Sellers
LONGEST DRIVE
SILVER
Valerie Melvin
BRONZE
Linda Aitken
NEAREST FOR 2
13TH
Tinker De Swart
BEST DRESSED
FIRST
Linda Surtees & Shirley Dallas
Helene Linder & Riana Moore
Chris Fane Hervey & Cathy Van Blerk
Rieks Tiley & Denise Grobbelaar
Jo Ledden & Lesley Godley
Janet Humphrey & Irene Schanda
Lynne Blackstock & Karen Burns
Morag Magnusson & Tessa Granger
Lee Varrie & Tracey Mills
TOURNAMENT SPONSORS
2019 SPONSORS
We thank our sponsors for
their generous support
Applied Outsourcing• Aquelle•
 Accessori• Arc Sportswear• Bandit Golf •
Beaver Creek• Bob & Allyson Thomas•
Cathy Halliday Estates• Casa Toscana
Coral Tree Colony • Cutter & Buck
 Changing Gears Spinning & Fitness •
Della Kempthorne • Derrik & Rene Matthew •
 Erwin & Irene Schanda •
 Emthunzini Hats • Exclusive Imports • Falcon Transport
 Glenbrynth • Golfino •Greensleeves Events
 Howard Buttery •
Hibiscus Insurance Brokers•
John Burnett Insurance Brokers
 Jo & Chris Ledden • LG • Lake Navarone
La Petit Truc D'Ann Sophi•
Lynne Blackstock • Midea Air-conditioning
 Marxelle's Day Spa •Mel & Michelle Davies
Mizuno • Nike • Nakai Home Stay •
Peak Pals •Pinnacle• Puma •
Richard & Les Savage• Richard & Karen Bridgeford •
 Ramsgate Stationers•
 Riptide Restaurant • Realty 1 Southbroom •
Riverbend• San Lameer Hotel •
 San Lameer Pro Shop • Sensasia Day Spa •
Smile Dental Centre
Simarki• Swagg • Southbroom Pro Shop•
 Southbroom Pharmacy• Swing Sports
South Coast Refrigeration & Air Conditioning
South Coast Tourism • Southbroom Pharmacy•
 Srixon• Southbroom Golf Club
Trattoria la Terrazza • Vic Pretorius
 Ubuntu Resource Management
     Wild Coast Sun
 Wedgewood