11 and 12 October 2014
Our Inaugural Mixed Classic was a resounding success and a big thanks to all the players who supported the event. We had a number of locals but the bulk of the support was from up country members and out of town visitors, always good Southbroom Ambassadors!
Congratulations to the winners, the top 10 being:
2014 LEADERBOARD
Pts
1
Bob Thomas & Allyson Thomas
83
2
Gus Bonini & Margie Bonini
81
3
Anton Leal & Louise Leal
79
4
Vic Pretorius & Jeanne Powell
78
5
Bernie Vorster & Michelle Davies
78
6
Willem Nel & Lenza de Jager
76
7
Gavin Sole & Janet Humphrey
75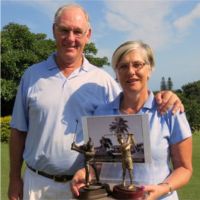 The weather prediction was not good but all that eventually arrived was a strong wind as thankfully the rain bypassed us!
Day One was the Greensomes Stableford Format with a solid breeze from the north. The only team that mastered the conditions was Bob & Allyson Thomas with 41 points and a 5 point lead. Greensomes is not an easy format with many decisions to be made along the way and a good test to any relationship.
After a tough Day 1, the players then relaxed with a putting clinic and snacks on the Patio. And later all the players and partners were in great spirits for the Ebony & Ivory Evening on Saturday Night. A fabulous dinner was served and then all danced up a storm with great music from popular Billy the Skit. A great party was had by all.
Thanks to Deanne Purtell & Lauren Curlewis from The Three Black Dresses Event Management Company who did a fantastic job of setting up the clubhouse each day which both set the tone and really added to the tournament. Starting with The Mad Hatters Cocktail party on Friday night to the classy but casual prize giving lunch on Sunday, Well done Ladies and also to the Mixed Classic Committee.
Many tender heads turned up on Sunday morning for Round Two shot gun Better Ball Stab format. The wind picked up again, but this time from the South for a sneaky change. Team Thomas did enough to hold on with 42 BB points for a total of 83 and just managed to keep ahead of a charging Gus & Margi Bonini who finished on 81 followed by 3rd Anton & Louise Leal on 80!
Many thanks to all the Southbroom members who helped make the weekend a success, to all the Sponsors who we so appreciate and also to Gary, Rene & Deanne Purtell of Realty1 on the 10th tee, Dave Page of Coral tree Colony on the 13th tee and Midea Air Conditioners & South Coast Refrigeration and Airconditioning on the 1st hole, for manning their holes which really added a special touch for the players.
For a few fond memories, click to see all the pics on facebook!!
Click here to be placed on the 2015 invitation list.
Results
Overall Winners
Pts
1
Bob Thomas & Allyson Thomas
83
2
Gus Bonini & Margie Bonini
81
3
Anton Leal & Louise Leal
79
4
Vic Pretorius & Jeanne Powell
78
5
Bernie Vorster & Michelle Davies
78
6
Willem Nel & Lenza de Jager
76
7
Gavin Sole & Janet Humphrey
75
DAY 1 – GREENSOMES
1
BOB THOMAS ALLYSON THOMAS
41
2
MARTIN & JENNY DAMMANN
36
3
ANTON & LOUISE LEAL
35
Pin 4th
JEANETTE PEYIOS
Pin 8th
TITCH PEYIOS
Pin 11
LYNNE BLACKSTOCK
Pin 14
CLIVE COLE
Nearest for 2 on 5th
PAULA MOON
DAY 2 – BETTER BALL
1
GUS & MARGIE BONINI
41
2
VIC PRETORIUS & JEANNE POWELL
36
3
GARTH & HELEN STRONG
35
Pin 4th
RICHARD CLARK
Pin 8th
FERALDINE TREHERNE
Pin 11
SYDNEY CHANDLER
Pin 14
LENZA DE JAGER
Nearest for 2 on 15th
GUS VONINI
TOURNAMENT SPONSORS
PLEASE SUPPORT OUR SPONSORS, THEY MADE IT POSSIBLE
Aquellé
Arrabella Cupcakes and Treats
Bandit Distributors
Crocs
Cutter & Buck
Douglas Green Bellingham
Holster South Africa
Ingeli Forest Lodge
Jägermeister
John Dory's
Linvar
Martini
Midea Air Conditioning
Nedbank
Rain
Realty 1 Southbroom
ReVite
SA Women's Open
South Coast Refrigeration & Air Conditioning
Southbroom Pro Shop
Spur Steak Ranches
Storage Direct
The Pro Shop
Three Black Dresses
Trattoria la Terrazza
Union Motors South Coast
Wakefields