17 and 18 October 2015
The second Southbroom Mixed Classic presented by Pharaohs Construction was a wonderful event. We had a full field, sunny skies, a beautiful golf course and fantastic sponsors. Sure, there was some wind but that just makes for challenging golf. Judging from all the happy feedback, the Southbroom Mixed Classic was certainly enjoyed by all.
Congratulations to the winners, the top 10 being:
2014 LEADERBOARD
Pts
1
Mike & Bev Riemer
82
2
Darren Ovenstone & Lizzie Currie
80
3
David & Mandy Edwards
78
4
Paul & Jean Cole
78
5
Paul De & Philippa De Zeeuw
78
6
Rory O'donnell & Meryl Chambers
77
7
Rob & Glynis Nisbet
77
8
Brian & Lynne Blackstock
77
9
Pat & Penelope Cronin
77
10
Cleve & Julie Walker
76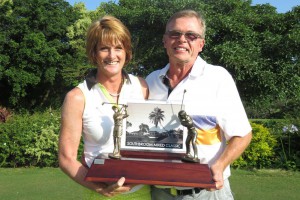 Scoring was close with Mike & Bev Riemer holding their nerve when leading after Day 1. They made 41 points in the Saturday Greensomes and 41 points in the Betterball Stableford on Sunday which was enough for a two-point win over youngsters Darren Ovenstone & Lizzie Currie. We congratulate all the winners as well as Kevin Daly who Aced the 14th hole on the Saturday.
We thank our wonderful sponsors, with special mention going to presenting sponsor Marthinus du Plessis of Pharaohs Construction; his brother Etienne Du Plessis of Homes 100 who brought in many of the hole sponsors; South Coast Tourism; Midea Airconditiong and major prize sponsors Cemair, Moto Link and Realty 1 Southbroom. We also thank the many hole sponsors and especially those who took the time to man their tees/greens. Tournaments of this stature would not be possible without sponsorship and we urge players and members to please support our sponsors throughout the year.
We also thank members and staff who pulled out all the stops to ensure the tournament's success and that the clubhouse and course was at their best. It was amazing to watch all the elements come together and Exceed Expectations.
The field was over-subscribed with twenty-five clubs represented and many of the players went to great lengths to embrace the African Safari theme. Derek (Doctor Livingstone I Assume) James, resplendent in pith helmet and oversized khaki shorts, set the tone at the arrival cocktail party. He was ably assisted by young African drummers and dancers and by Walter Robinson who fired a real shotgun-start the next morning.
Deanne Purtell and Lauren Curlewis of Three Black Dresses ensured that the theme carried through into even the smallest elements of décor. Members Richard Bridgeford and Des Erasmus jazzed it up on the Friday evening and Billy the Skit kept couples dancing to the wee hours on Saturday night. Sheena had collated the entries and made sure that every player's need and request was accommodated whilst Gavin and his team delivered service and a menu to suit every palate and allergy. Liz Norton put last minute touches to the water-wise gardens that she is creating around the clubhouse and Charl and his team delivered the course in its best condition ever.
Sincere thanks to them all and to John Ncama (painter), Erwin Schanda (paintings), Irene Schanda and Rene Matthew (prizes), and last but by no means least, sincere thanks to presenting sponsor Marthinus du Plessis of Pharaohs Construction.
Southbroom Golf Club is proud to be associated with Pharaohs Construction, the Supreme Winner in the 2014 Excellence in Construction Awards, and we thank Marthinus for seeing value in investing in the Southbroom Mixed Classic and raising the profile of the youngest member of the Classic Trilogy.
Southbroom Mixed Classic presented by Pharaohs Construction
For a few fond memories, click to see all the pics on facebook!!
Click here to be placed on the 2015 invitation list.
Results
2014 LEADERBOARD
Pts
1
Mike & Bev Riemer
82
2
Darren Ovenstone & Lizzie Currie
80
3
David & Mandy Edwards
78
4
Paul & Jean Cole
78
5
Paul De & Philippa De Zeeuw
78
6
Rory O'donnell & Meryl Chambers
77
7
Rob & Glynis Nisbet
77
8
Brian & Lynne Blackstock
77
9
Pat & Penelope Cronin
77
10
Cleve & Julie Walker
76
DAY 1 – GREENSOMES
1
Mike & Bev Riemer
41
2
Paul & Philippa De Zeeuw
39
3
Paul & Jean Cole
39
Pin 4th
Ladies Norma James
Pin 8th
Men Clive Cole
Pin 11
Ladies Kate Jackson
Pin 14
Men Graham Volck
Nearest for 2 on 5th
Men Darren Ovenstone
Nearest for 2 on 15th
Ladies Bev Riemer
Nearest for 2 Nett 13th
Lorna Johnson
Longest Drive 1st
Men Neil Stratton
Straightest Drive 10th
Ladies Mandy Edwards
DAY 2 – BETTER BALL
1
 David & Mandy Edwards
48
2
Rory O'Donnell & Meryl Chambers
48
3
Titch & Jeanette Peyios
44
Pin 4th
Men Rory O'donnell
Pin 8th
Ladies Lynne Blackstock
Pin 11
Men Frans Broodryk
Pin 14
Ladies Linda Surtees
Nearest for 2 on 5th
Ladies Mandy Edwards
Nearest for 2 on 15th
Men Kate Jackson
Nearest For 2 Nett 13th
Phillipa De Zeeuw
Longest Drive 1st
Ladies Lizzie Currie
Straightest Drive 10th
Men Clive Cole
TOURNAMENT SPONSORS
PLEASE SUPPORT OUR SPONSORS, THEY MADE IT POSSIBLE
Pharoah's Construction
Homes 100
South Coast Tourism
Cemair
Motolink
Realty 1 Southbroom
Midea Airconditioning
All Plant Hire
African Game Bags
Arabella
Beaver Creek Coffee Farm
Coles Kitchens
Convectia Kitchens
Coral Tree Colony
DGB
Easy Holiday Club
Formscaff
Gutterman
Herbalife
Holborn Assets
House of Paints, Manaba
Innovar Flooring
K G Glass
Linvar – Storage Direct
Margate Engineering
Margate Panel Beaters
Milton Plant Hire
Performance Leisure
Ping
Qaftans and Qi
Rain
Riverbend Crocodile Farm
SG Convenience
South Coast Granite
South Coast Quartet
South Coast Refrigeration & Airconditioning
Southbroom Pro Shop
Spoilt Rotten
Techniblock
Three Black Dresses