15 and 16 October 2016
The Third Southbroom Mixed Classic presented by Pharaohs Construction was a wonderful event. We had a full field, sunny skies, a beautiful golf course and fantastic sponsors. Judging from all the happy feedback, the Southbroom Mixed Classic was certainly enjoyed by all.
Congratulations to the winners, the top 10 being:
2016 LEADERBOARD
Pts
1
Errol & Trish Amm
81
2
Bernie Vorster & Michelle Davies
81
3
Mark & Linda Surtees
79
4
Selwyn & Annabelle Hesom
79
5
Ivan Curlewis & Alicia Hilt
79
6
Gerald & Sandy FitzGerald
78
7
Alexander & Heather Steppe
78
8
Gordon Odgers & Jetske Kingma
77
9
Derrik & Rene Matthew
76
10
Cleve & Julie Walker
76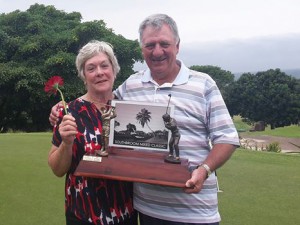 Once again we hosted a wonderful Pharaohs Construction Mixed Classic over the past weekend. There were 122 players enjoying our beautiful golf course in great weather on Saturday and fairly blustery but dry conditions on Sunday.
We had a rather wet Friday when everyone arrived but fortunately things changed for the weekend. Friday evening we had a festive welcoming with our local band, The Southbroom Legends who played music to the tune of Woodstock, the theme of the tournament. Well done Mel Davies, Des Erasmus, Josh Pretorius together with base man Jurgen.
The first day was Greensomes which is always an interesting format with decisions to be made on every hole and the team of Bernie Vorster and Michelle Davis took an early lead with 42 points followed by Bob & Allyson Thomas on a score of 40. The leader board was very tight with lots of teams in contention but all was very friendly. Saturday night dinner dance theme was Woodstock and entertainer Winston Smile put on a great show. It was such fun and really hard to recognize members and friends with their amazing wigs and sixties threads on. Sunday morning dawned fresh and dry with a gentle breeze and a better ball format, which saw scores climb and the tournament came down to the wire.The leading couple of Bernie and Michelle put up a hard fight finishing with a total of 81 points only to be narrowly beaten on a count out by Errol and Trish Amm who made a fine 45 better ball points for their total of 81. The count out favoured the best last day, so the trophy went to long standing Southbroom members Errol and Trish who had travelled up all the way from Cape Town.
What was wonderful were the players who came here from all over the country to enjoy the warm, friendly and enthusiastic Southbroom Golf Club. A truly spirited happy event. Thanks to Main Sponsor, Pharoahs Construction for their continued support and a special thanks to all the other sponsors especially those who manned tees on the course over the weekend and spoilt the players with a wonderful variety of treats and prizes. Jean Corfe enjoyed a Hole in One on the 14th Hole Well done Jean! Jean is a bit of a Legend as this is her 7th Ace
Southbroom Golf Club is proud to be associated with Pharaohs Construction, the Supreme Winner in the 2014 Excellence in Construction Awards, and we thank Marthinus for seeing value in investing in the Southbroom Mixed Classic and raising the profile of the youngest member of the Classic Trilogy.
Southbroom Mixed Classic presented by Pharaohs Construction
For a few fond memories, click to see all the pics on facebook!!
Click here to be placed on the 2017 invitation list.
Results
2016 LEADERBOARD
Pts
1
Errol & Trish Amm
81
2
Bernie Vorster & Michelle Davies
81
3
Mark & Linda Surtees
79
4
Selwyn & Annabelle Hesom
79
5
Ivan Curlewis & Alicia Hilt
79
6
Gerald & Sandy FitzGerald
78
7
Alexander & Heather Steppe
78
8
Gordon Odgers & Jetske Kingma
77
9
Derrik & Rene Matthew
76
10
Cleve & Julie Walker
76
DAY 1 – GREENSOMES
1
Bernie Vorster & Michelle Davies
42
2
Bob & Allyson Thomas
40
3
Michael & Susan Van Der Riet
39
Pin 4th
Ladies Julie Walker
Pin 8th
Men Clive Cole
Pin 11
Ladies Biffy Dunn
Pin 14
Men Martie Snyman
Nearest for 2 on 5th
Men Des Martin
Nearest for 2 on 15th
Ladies Ingrid Hooper
Nearest for 2 Nett 13th
Alecia Hilt & Ivan Curlewis
Longest Drive 1st
Men Bob Thomas
DAY 2 – BETTER BALL
1
 Errol & Trish Amm
45
2
George Haswell & Jean Corfe
43
3
Tim & Ingrid Hooper
43
Pin 4th
Men Clive Cole
Pin 8th
Ladies Coleen Anderson
Pin 11
Men Paul Cole
Pin 14
Ladies Jean Corfe (Hole in 1)
Nearest for 2 on 5th
Ladies Heather Steppe
Nearest for 2 on 15th
Men Ivan Curlewis
Nearest For 2 Nett 13th
Bob Thomas
Longest Drive 1st
Ladies Janet Humphrey
TOURNAMENT SPONSORS
PLEASE SUPPORT OUR SPONSORS, THEY MADE IT POSSIBLE
Pharoah's Construction
Comexas
Audi
Boabab
Bidvest
Boss
Camelot Spa
Cemair
Coral Tree Colony
House of Paints
Insure Brokers
Erwin & Irene Schanda
Joy Crutchfield
Linvar
Moto Link
Maser Security
Midea
Nashua
Rawsons
Realty 1 Southbroom
San Lameer Resort
San Lameer Golf Course
South Coast Refrigeration
South Coast Tourism
Southbroom Golf Club
Southbbroom Pro Shop
Spoilt Rotten
Tamarind
Techniblock
The Bridgefords
Willie Bergh