14 and 15 October 2017
The Fourth Southbroom Mixed Classic presented by Pharaohs Construction was a wonderful event. We had 104, a beautiful golf course and fantastic sponsors. Judging from all the happy feedback, the Southbroom Mixed Classic was certainly enjoyed by all.
Congratulations to the winners, the top 10 being:
2017 LEADERBOARD
Pts
1
Mike Reimer & Bev Reimer
80 pts
2
Brian Blackstock & Lynne Blackstock
79 pts
3
Derrik Matthew & Rene Matthew
77 pts
4
Derek James & Jeanette Peyios
77 pts
5
George Haswell & Jean Corfe
76 pts
6
Errol Amm & Trish Amm
76 pts
7
Charlie Spence & Janey Spence
76 pts
8
Anton Leal & Louise Leal
75 pts
9
Gerald FitzGerald & Sandy FitzGerald
75 pts
10
Michelle Davies & Bernie Vorster
74 pts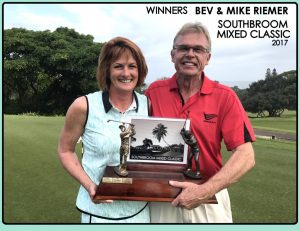 What a wonderful Pharaoh Construction Mixed Classic we had at Southbroom this last week end . The weather was a little dodgy  blowing hard from the north on Saturday, then hard from the south on Sunday which just added to the challenge of Mixed Golf. Mike and Bev Reiner made 80 points over the two days, finishing one shot ahead of Brian and Lynne Blackstock. Jeanette Peyios and I played with Brian and Lynne on Sunday and they played some special golf in the wind. We finished 4th behind Derrik and Rene Matthew on 77 points. Both evenings entertainment was fantastic with our Southbroom Legends band of Mel Davies, Josh Pretorius, Des Erasmus and new man on the block- Dion de Beer, all playing some great catchy country  music  Winston Smile  was as good as always on Saturday night and the dance floor was never empty. The food was voted absolutely delicious,  there was plenty of laughter, fun, great outfits!  dancing and plenty to drink.
Thanks to our local Décor Ladies  Mari Fielden & Sandy Luus for transforming the club house and bar into the Country and Western Theme.
Thanks to all our  wonderful sponsors and to the players who travelled from all over the country to enjoy the Mixed Classic. We look forward to next year  The Tournament pics can all be found on facebook Click Here!
Southbroom Golf Club is proud to be associated with Pharaohs Construction, the Supreme Winner in the 2014 Excellence in Construction Awards, and we thank Marthinus for seeing value in investing in the Southbroom Mixed Classic and raising the profile of the youngest member of the Classic Trilogy.
Southbroom Mixed Classic presented by Pharaohs Construction
Click here to be placed on the 2017 invitation list.
Results
2017 LEADERBOARD
Pts
1
Mike & Bev Reimer
80
2
Brian & Lynne Blackstock
79
3
Derrik & Rene Matthew
77
4
Derek James & Jeanette Peyios
77
5
George Haswell & Jean Corfe
76
6
Errol & Trish Amm
76
7
Charlie & Janey Spence
76
8
Anton & Louise Leal
75
9
Gerald & Sandy FitzGerald
75
10
Bernie Vorster & Michelle Davies
74
DAY 1 – GREENSOMES
1
Mike & Bev Reimer
38
2
Guy English & Sherry King
37
3
Derek James & Jeanette Peyios
37
Closest to the Marker- Nr 1
Meryl Chambers
DAY 2 – BETTER BALL
1
 Anton & Louise Leal
46
2
Brian & Lynne Blackstock
45
3
Michelle Davies & Bernie Vorster
44
Pin 4th
Ladies- Trish Amm
Pin 8th
Men- John Neaves
Pin 11
Ladies- Jean Corfe
Pin 14
Men- Ivan Curlewis
Nearest for 2 on 12th
Men- Mike Jackson
Nearest for 2 on 13th
Ladies- Sherry King
Longest Drive
Ladies- Kate Jackson
Longest Drive
Men- Bob Thomas
TOURNAMENT SPONSORS
PLEASE SUPPORT OUR SPONSORS, THEY MADE IT POSSIBLE
Pharoah's Construction
Baobab Galerie
Cafe LM
Coral Tree Colony
Chefs on Marine
Bob & Allyson Thomas
Mel & Michelle Davies
Realty 1 Southbroom
San Lameer Golf Estate
South Coast Tourism
Maser Security
Southbroom Golf Club
Southbroom Pro Shop
Srixon
Cutter & Buck
Ubuntu Resource Management
CTL Group
Wild Coast Sun