13 and 14 October 2018
The fifth Mixed Classic was a great success. Well done to all who took part and helped make this event so special.
Congratulations to the winners, the top 10 being:
2018 LEADERBOARD
Pts
1
Bobby & Gesi Graham
77
2
Rory O'Donnell & Colleen Anderson
76
3
Brian & Lynne Blackstock
75
4
Mike Lig & Meryl Chambers
75
5
Bernie Vorster & Michelle Davies
75
6
Theo & Esther Enslin
75
7
Pat & Penny Cronin
74
8
Arnold & Gail Bottiger
74
9
John & Marie Louise Steyn
74
10
Dave & Solange Fox
73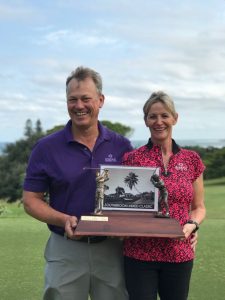 Another year, another special Mixed Classic. Southbroom was a buzz on Friday afternoon as 128 eager golfers came down to the club to register. The weather eventually played its part, lots of rain on Friday evening, but as Saturday arrived so the rain disappeared. Overcast conditions met the players, much to our relief. Greensomes always provides a stern test for players and it showed in the scoring, after day 1 Theo & Esther Enslin with 37 points had a narrow 1 point lead over eventual winners, Bobby & Gesi Graham. Sunday as the wind blew and skies cleared, the scoring got better. Last year's Runner's Up, Brian & Lynne Blackstock shot the best score of 44 points, narrowly counting out Gary & Lesley Godley. Both evening's entertainment were fantastic. Mama & Papa James sang on Friday on Frday, And the Southbroom Legends band of Mel Davies, Richard Bridgeford, Des Erasmus and Dion de Beer entertained all on Saturday with great catchy  music. The food was voted absolutely delicious,  there was plenty of laughter, fun, great outfits! Dancing and the bar flowed steadily.
Thanks to our local Décor Ladies  Michelle Davies, Allyson Thomas, Irene Schanda, Shelley Myers & Shirley Jeffery for transforming the club house into the 1920's Gatsby Era!
Over 300 Tournament pics can all be found on Facebook Click Here!
(Remember to like the Southbroom Golf Club Page first, then you can tag and save the pics you want to)
Click here to be placed on the 2019 invitation list.
Results
2018 LEADERBOARD
Pts
1
Bobby & Gesi Graham
77
2
Rory O'Donnell & Colleen Anderson
76
3
Brian & Lynne Blackstock
75
4
Mike Lig & Meryl Chambers
75
5
Bernie Vorster & Michelle Davies
75
6
Theo & Esther Enslin
75
7
Pat & Penny Cronin
74
8
Arnold & Gail Boettiger
74
9
Johan & Marie Louise Steyn
74
10
Dave & Solange Fox
73
DAY 1 – GREENSOMES
1
Theo & Esther Enslin
37
2
Bobby & Gesi Graham
36
3
Johan & Marie Louise Steyn
36
DAY 2 – BETTER BALL
1
 Brian & Lynne Blackstock
 44
2
 Gary & Lesley Godley
44
3
Bob O'Callaghan & Jill Webster
43
Pin 4th
Jeanne Powell
Pin 8th
Gordon Huddy
Pin 11
Linda Surtees
Pin 14
Grant Walker
Nearest for 2 on 12th
Arnold Boettiger
Nearest for 2 on 5th Ladies
Michelle Davies
Nearest for 2 on 15th Men
Brand VD Walt
Longest Drive
Liezel Van Achterbergh
Longest Drive
Brand VD Walt
TOURNAMENT SPONSORS
PLEASE SUPPORT OUR SPONSORS, THEY MADE IT POSSIBLE
Audi Centre Margate
Realty One Southbroom
Ubuntu Resource Management
CTL Group
Srixon
Coral Tree Colony
Southbroom Pro Shop
Southbroom Golf Club