12 and 13 October 2019
The sixth Mixed Classic was a great success. Well done to all who took part and helped make this event so special.
Congratulations to the winners, the top 10 being:
2019 LEADERBOARD
Pts
1
Dave & Solange Fox
85
2
Bob O'Callaghan & Jill Webster
84
3
Paul Lawson & Augi D'ewes
84
4
Callum Piccione & Laura Cole
81
5
Andre & Leanne Ollewagen
80
6
Martin & Glynis Hutton
80
7
Paul & Jean Cole
79
8
Clive & Janeen Cole
79
9
John Fox & Irene Schanda
79
10
Graham & Jenny Holford
77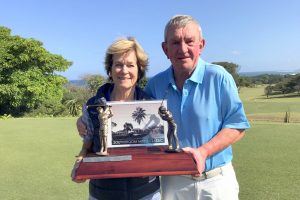 The sixth Southbroom Mixed classic has come and gone. 100 players from Southbroom, all over South Africa, and even from the UK played the tournament. The golf over the two days was competitive and very close, a number of teams could have won. The first day saw our Club Chairman and Lady President (John Fox & Irene Schanda) hold a narrow lead over the youngsters of the tournament, Callum Piccione & Laura Cole, with another 3 teams a further point behind.
John & Irene weren't able to replicate their Saturday round in what became a fresh South Wester blowing through Southbroom. Paul Lawson & Augi D'ewes were consistent, finishing Third on Saturday, Third on Sunday and Third Overall in the Tournament one point behind the eventual winners. Bob O'Callaghan and Jill Webster matched Paul & Augi's scores, seeing their back 9 on the last day enough to pip them to second spot. Winning by a single shot in the end was Dave & Solange Fox, 40 points on Saturday saw them in the hunt 3 behind, but a brilliant 45 points on Sunday saw them do just enough to clinch the tournament for the first time.
Dave & Solange's sons, Greg & Andrew Fox won the Men's Amateur Classic this year too so this caps off a successful year in the Fox household!
Both evening's entertainment were fantastic. Southbroom Legends band Richard Bridgeford, Des Erasmus and Deon de Beer entertained all on Friday with great catchy  music and DJ Tim got everybody dancing on Saturday night. The food was voted absolutely delicious,  there was plenty of laughter, fun, great outfits!
Thanks to our local Décor Ladies Allyson Thomas, Irene Schanda & Tracey from Greensleeve Eventsfor transforming the club house into this years theme 'Around the World in 80 Days'
Over 180 Tournament pics can all be found on Facebook Click Here!
(Remember to like the Southbroom Golf Club Page first, then you can tag and save the pics you want to)
Click here to be placed on the 2020 invitation list.
Results
2019 LEADERBOARD
Pts
1
Dave & Solange Fox
85
2
Bob O'Callaghan & Jill Webster
84
3
Paul LAwson & Augi D'ewes
84
4
Callum Piccione & Laura Cole
81
5
Andre & Leanne Ollewagen
80
6
Martin & Glynis Hutton
80
7
Paul & Jean Cole
79
8
Clive & Janeen Cole
79
9
John Fox & Irene Schanda
79
10
Graham & Jenny Holford
77
SATURDAY – BETTER BALL
1
John Fox & Irene Schanda
43
2
Callum Piccione & Laura Cole
42
3
Paul Lawson & Augi D'ewes
41
Pin 4th
Mark Surtees
Pin 8th
Jeremy Smythe
Pin 11
Jeremy Smythe
Pin 14
Delia Chandler
Nearest for 2 on 12th
Brian Blackstock
SUNDAY – BETTER BALL
1
 Dave & Solange Fox
45
2
Bob O'Callaghan & Jill Webster
43
3
Paul Lawson & Augi D'ewes
43
Pin 4th
Mike Lig
Pin 8th
Gordon Odgers
Pin 11
Derek Lawrance
Pin 14
Neill Edwards
Nearest for 2 on 12th
Kath Du Preez
TOURNAMENT SPONSORS
PLEASE SUPPORT OUR SPONSORS, THEY MADE IT POSSIBLE
Realty One Southbroom
Ubuntu Resource Management
CTL Group
Greensleeve Events
Coral Tree Colony
Southbroom Pro Shop
Southbroom Golf Club