10 and 11 October 2020
The seventh Mixed Classic was a great success. Well done to all who took part and helped make this event so special.
Congratulations to the winners, the top 10 being:
2020 LEADERBOARD
Pts
1
Andy Bossard & Eli Bachmann
84
2
Graham Volck & Sharon Turnbull-Jackson
80
3
Bob & Allyson Thomas
80
4
Bob O'Callaghan & Jill Webster
80
5
John Fox & Irene Schanda
78
6
Anton & Louise Leal
78
7
Paul & Jean Cole
77
8
Rory O'Donnell & Colleen Anderson
77
9
Clive & Janeen Cole
74
10
Grant & Erica Walker
73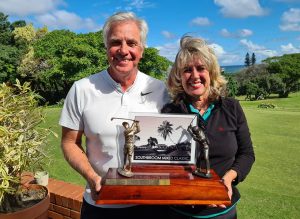 The seventh Southbroom Mixed Classic has come and gone. After nearly a year without a Classic, Southbroom had hosted the Men's and Mixed Classic within 3 weeks of one another. A smaller field of 30 teams took part in this year's classic, some with ideas of recapturing a trophy they had won, others hoping to get their hands on it for the first time.
On Saturday, about an hour before tee off, a near gale-force South-Wester blew through. This made for a very difficult afternoon. Four teams scrapped well and managed a very respectable 40 points. Gary & Lesley Godley, Bob O'Callaghan & Jill Webster, Anton & Louise Leal, Andy Bossard & Eli Bachmann were the four teams leading the way. Just two points behind were previous winners Bob and Allyson Thomas, along with regular Classic participators Rory O'Donnell & Colleen Anderson.
The theme of this years Mixed Classic was 'Proudly South African' and Saturday night didn't disappoint. All were dressed up in very South African kit. Some of the Southbroom Ladies, along with a certain Golf Director even did the Jerusalema dance for the Classic Players. The food put on throughout the weekend was delicious. Well done to Gavin, Michelle, Thembi and Phet for pulling out all the stops. After dinner, a popular Southbroom entertainer in Winston Smile kept the party going right up until the Curfew.
A cool, breezy Sunday met the players on the final day. While the breeze may still have been up, it was nothing like Saturday's wind and that showed in the points scored on Sunday. A blistering 45 points were scored by Graham Volck & Sharon Turnbull- Jackson to shoot them up to second overall. They counted out Bob & Allyson Thomas, as well as Bob O'Callaghan & Jill Webster, all on 80 points.
However none could catch First-time winners Andy Bossard & Eli Bachmann who built on their fine Saturday display of 40 points to add another 44 and finish with a 4 shot lead and a total of 84 points for the weekend.
A big thanks to our Local Décor team- Allyson Thomas, The Southbroom Ladies Committee, Irene & Erwin Schanda. They were able to give the Clubhouse a Proudly South African feel to it.
Tournament pics can all be found on Facebook Click Here!
(Remember to like the Southbroom Golf Club Page first, then you can tag and save the pics you want to)
Click here to be placed on the 2021 invitation list.
Results
2020 LEADERBOARD
Pts
1
Andy Bossard & Eli Bachmann
84
2
Graham Volck & Sharon Turnbull-Jackson
80
3
Bob & Allyson Thomas
80
4
Bob O'Callaghan & Jill Webster
80
5
John Fox & Irene Schanda
78
6
Anton & Louise Leal
78
7
Paul & Jean Cole
77
8
Rory O'Donnell & Coleen Anderson
77
9
Clive & Janeen Cole
74
10
Grant & Erica Walker
73
SATURDAY – BETTER BALL
1
Gary & Lesley Godley
40
2
Bob O'Callaghan & Jill Webster
40
Pin 4- Lady
 Jill Webster
Pin 8
 Andy Bossard
Pin 11- Men
 Norman Archibald
Pin 11- Lady
 Jill Webster
Pin 14- Men
 Chris Ledden
Nearest for 2 on 12th
 Bob Thomas
SUNDAY – BETTER BALL
1
Graham Volck & Sharon Turnbull-Jackson
45
2
Andreas Bossard & Eli Bachman
44
Pin 4- Lady
 Michelle Van Der Hoek
Pin 8
 Colleen Anderson
Pin 11- Men
 Bob O'Callaghan
Pin 11- Lady
 Sandy FitzGerald
Pin 14- Men
 Gerald FitzGerald
Nearest for 2 on 12th
 Rory O'Donnell
TOURNAMENT SPONSORS
PLEASE SUPPORT OUR SPONSORS, THEY MADE IT POSSIBLE
Realty One Southbroom
Ann-Sophi Lazideres
Riverbend Art & Wine
Coral Tree Colony
Around About Cars
CTL Holdings
Ubuntu Resource Management