9 and 10 October 2021
The eighth Mixed Classic was a great success. Well done to all who took part and helped make this event so special.
Congratulations to the winners, the top 5 being:
2021 LEADERBOARD
Pts
1
Neill Crossey & Lyn Doveton
76
2
Alti & Binny Stephen
75
3
John Fox & Irene Schanda
75
4
Andreas Bossard & Eli Bachmann
74
5
Grant & Erica Walker
74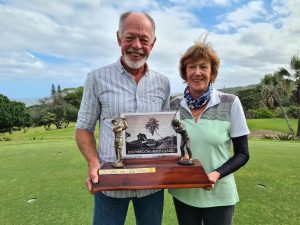 The eighth Southbroom Mixed Classic has come and gone. In another crazy year with many ups and downs we happily found ourselves between the dreaded Covid 'waves' and able to host a fairly restriction free event. This years theme was Black & White, a simple yet elegant look.
In the week leading up to the Classic this year the heavens opened and Southbroom had around 230mm worth of rain in 7 days. Fortunately come Saturday, the Clouds disappeared and were quickly replaced with bright blue skies. This was coupled with a very strong South-westerly wind and along with the very damp conditions made for a very difficult golf course! The conditions were reflected in the scoring as Southbroom locals John Fox & Irene Schanda with 39 points edged out Pieter & Lizette de Villiers and Alti & Binny Stephen by one point to take a slender lead into Sunday's final round.
Gavin, Michelle, Thembi & Phet put on a wonderful medley of roasts which the players enjoyed after their round of golf with some light entertainment.
As if Saturday wasn't bad enough, Mother Nature decided to throw all she had at the field to see just how committed these players were. Early in the round bouts of rain, coupled with a gusting South-wester put all the players to the test. Fortunately the wind kept blowing and blew the clouds away leaving the final hour or so with some blue skies to finish! The players coped with the weather very well, none more-so than Andy Bossard and Eli Bachmann, last years champions making sure their name would be up near the top yet again finishing 4th Overall. Grant & Erica Walker also fought back well after a slow start on Saturday, 39 points on Sunday saw them finish 5th overall tied with Andy and Eli, 4 points off the eventual winners. Consistent showings from Alti & Binny Stephen and John Fox & Irene Schanda saw them both finish with 2nd and 3rd respectively, tied on points and just one point short of the eventual winners Neill Crossey and Lyn Doveton. They had finished just outside of the prizes on Saturday and seemed to fly under the radar a little but impressive tally's of 37 and 39 points saw them clinch their maiden Mixed trophy by 1 point. An incredible job in trying conditions!
It is so special to see the many regulars who make a point of diarizing this event in their calendars and of course to see the new faces too, it was a special weekend and we hope the players enjoyed it as much as we did!
Tournament pics can all be found on Facebook Click Here!
(Remember to like the Southbroom Golf Club Page first, then you can tag and save the pics you want to)
Click here to be placed on the 2022 invitation list.
Results
2020 LEADERBOARD
Pts
1
Neill Crossey & Lyn Doveton
76
2
Alti & Binny Stephen
75
3
John Fox & Irene Schanda
75
4
Andy Bossard & Eli Bachmann
72
5
Grant & Erica Walker
72
6
Pieter & Lizette de Villiers
71
7
Robbie & Marie Robinson
70
8
Bob & Allyson Thomas
70
9
John Neaves & Michelle Vd Hoek
68
10
Piet & Janette Maritz
68
SATURDAY – BETTER BALL
1
John Fox & Irene Schanda
39
2
Pieter & Lizette de Villiers
38
Pin 4
 Solange Fox
Pin 8
 Jeanette Maritz
Pin 11
 Peter Kupisiewicz
Pin 14
 Lyn Doveton
Nearest for 2 on 12th
 John Fox
SUNDAY – BETTER BALL
1
Andreas Bossard & Eli Bachman
41
2
Neill Crossey & Lyn Doveton
39
Pin 4
 Philip Tanner
Pin 8
 Sandy FitzGerald
Pin 11
 Alice Archibald
Pin 14
 Marie Robinson
Nearest for 2 on 12th
 Robbie Robinson
TOURNAMENT SPONSORS
PLEASE SUPPORT OUR SPONSORS, THEY MADE IT POSSIBLE
Realty One Southbroom
Ann-Sophi Lazideres
Coral Tree Colony
Christer Solgevik
CTL Holdings
Ubuntu Resource Management