8 and 9 October 2022
The ninth Mixed Classic was a great success. Well done to all who took part and helped make this event so special.
Congratulations to the winners, the top 5 being:
2022 LEADERBOARD
Pts
1
Jasen & Chantal Welsh
80
2
Rory O'Donnell & Colleen Anderson
80
3
John Fox & Irene Schanda
78
4
Anton & Louise Leal
76
5
Christer Solgevik & Precious Mkhungo
76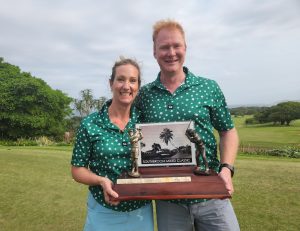 The 9th Southbroom Mixed Classic has come and gone leaving many happy memories!
The golf course was in superb condition, Charl and his team produced great greens for a typically tough time of the year!
Registration was on Friday night, followed by a light meal and Ricky playing music as the teams arrived with much optimism for the weekend ahead.
Saturday started with a Clinic by Derek, many were cramming in last bits of tips and tricks to navigate a very tricky North-Easter that has picked up during the course of the morning.
Derek's 5 simple tips-
1. Grip
2. Wrists
3. Hips, legs & feet
4. Hit the ground
5. Hold a balanced finish
Southbroom Locals, used to the windy conditions, dominated the first days play. 40 Points for Marius & Ann Sophie Santos, 41 points for Peter & Sue Kupisiewicz. Winners for the day, John Fox & Irene Schanda tamed the wind and shot a brilliant 43 points.
That evening the club offered up a delicious roast for the players and upbeat music from Shaun Miller.
On Sunday mother-nature decided to change things up, the wind switched in the complete opposite direction to keep the players on their toes. Every hole that would have been easy the day before, turned into a much bigger challenge on the Sunday.
John Fox and Irene Schanda didn't quite light the course up for a second day running and finished with a 35 to leave them on a very respectable 78 points and third for the tournament. Rory O'Donnell & Colleen Anderson were consistent over the tournament with scores of 39 & 41 points putting them at 80 points for the weekend which for some time was thought to be enough to clinch their maiden Classic. With one of the last cards to come in, they finished way out on the 5th hole, Jasen & Chantal Welsh came in with an astonishing 45 points to finish on 80 points, beating Rory and Colleen only on a count out. An incredible finish to a very popular tournament and two very happy winners, congratulations Jasen & Chantal!
A special thanks to Gea who did a great job with the Decor, Gavin and his team with all the incredible food, Ricky Muso & Shaun Miller for the fantastic entertainment. It all made for a very enjoyable tournament.
It is so special to see the many regulars who make a point of diarizing this event in their calendars and of course to see the new faces too, it was a special weekend and we hope the players enjoyed it as much as we did!
Tournament pics can all be found on Facebook Click Here!
(Remember to like the Southbroom Golf Club Page first, then you can tag and save the pics you want to)
Click here to be placed on the 2023 invitation list.
Results
2022 LEADERBOARD
Pts
1
Jasen & Chantal Welsh
80
2
Rory O'Donnell & Colleen Anderson
80
3
John Fox & Irene Schanda
78
4
Anton & Louise Leal
77
5
Christer Solgevik & Precious Mkhungo
76
6
Marius & Ann Sophie Santos
76
7
John Neaves & Michelle vd Hoek
75
8
Peter & Sue Kupisiewicz
75
9
Neill Crossey & Lyn Doveton
74
10
Selwyn & Annabelle Hesom
74
SATURDAY – BETTER BALL
1
John Fox & Irene Schanda
43
2
Peter & Sue Kupisiewicz
41
3
Marius & Ann Sophie Santos
40
Pin 4
 Peter Kupisiewicz
Pin 8
Allyson Thomas
Pin 11
Neill Crossey
Pin 14
Mike Lig
Nearest for 2 on 12th
Andrew Flinders
SUNDAY – BETTER BALL
1
Jasen & Chantal Walsh
45
2
Anton & Louise Leal
43
3
Rory O'Donnel & Colleen Anderson
41
Pin 4
Grant Walker
Pin 8
Graham Murray
Pin 11
Kevin Daly
Pin 14
Bob Thomas
Nearest for 2 on 12th
Anton Leal
TOURNAMENT SPONSORS
PLEASE SUPPORT OUR SPONSORS, THEY MADE IT POSSIBLE
Realty One Southbroom
Ann-Sophi Lazarides Santos
Coral Tree Colony
C Bali
Southbroom Pro Shop
CTL Holdings
Ubuntu Resource Management